Reading Time:
7
minutes
Is your teen's nose glued to their screen, endlessly scrolling TikTok? Then this stat won't surprise YOU!  A  2022 Pew Research Center study notes that in the United States alone, two-thirds of 13 to 17 year-olds use TikTok.

Mic drop! That's reason enough to learn about both the positives and the hidden dangers of TikTok for teens especially.
Why is TikTok so popular with teens?
TikTok is a fun, interactive search engine for Gen Z.
TikTok encourages to teens unleash their creativity and freely share their blossoming opinions.

Indeed, there's nothing boring about TikTok's free app!

Perhaps its most popular use? Searching TikTok videos for information, which is way more entertaining than Google search, notes The New York Times: 
"Instead of just slogging through walls of text, Gen Z-ers crowdsource recommendations from TikTok videos to pinpoint what they are looking for, watching video after video to cull the content."
Some teens dream of going viral on TikTok
Anyone can create videos on TikTok. So many teens post for personal affirmation,  dreaming of a chance to "go viral" online.

Sadly, "trending" on TikTok isn't always safe or harmless for teens, and it's important to know the reasons why.
Is TikTok safe for teens? (5 reasons we'd say "no"...)
TikTok states that their app is only appropriate for 13 year olds and above. However, a simple Google search shows parents are confused and concerned, asking questions like:

We agree with Common Sense Media's assessment:  the minimum age for a teen to safely use TikTok should be  older than 13. Here are 5 reasons why we don't think TikTok is safe for teens.
1. A secret link between OnlyFans and TikTok 
"Only ugly girls get diplomas" is a phrase floating around some highschools, notes Heidi Olson, a sexual assault nurse examiner. Some vulnerable teen girls believe OnlyFans is a career ticket to quick money and success. Hyper-sexualized teen content on TikTok fuels this mindset.

To be clear, TikTok states that OnlyFans accounts cannot be linked or promoted on TikTok. But just a little digging uncovers OnlyFans adult content creators with huge followings on TikTok. 
By creatively using "edgy" posts, some adult content creators are luring people off of TikTok.
For example, here's a "thirst-trap" warning sign: "No DMs here. Connect with me on Instagram or Twitter!"
This is often *code* for creating a thirst trap.  Then, it's a simple matter to lead people into their DMs on other social platforms. All parents need to be aware of this subtle danger for teens on TikTok.
2. Teens are being exposed to dangerous content on TikTok
Hidden dangers for teens on TikTok include access to dangerous content, possible cyberbullying or grooming, and an algorithm that is unsafe.
Parents are right to be worried about TikTok! For example:

"The first lawsuit, which was filed on Tuesday, alleges that TikTok lures children onto the platform by falsely claiming it is friendly for users between 13 to 17 years old.

American teens spend an average of 99 minutes per day on the app, the lawsuit claims, and in that time they're exposed to content that can contain drug and alcohol use, nudity and intense profanity." – CNN.com
One such lawsuit was filed by grieving parents whose children died because of a "blackout challenge". The challenge was fueled by TikTok videos of self-inflicted choking to get "high". 
Unfortunately, this isn't an isolated incident. Numerous dangerous challenges have surfaced on TikTok before being discovered.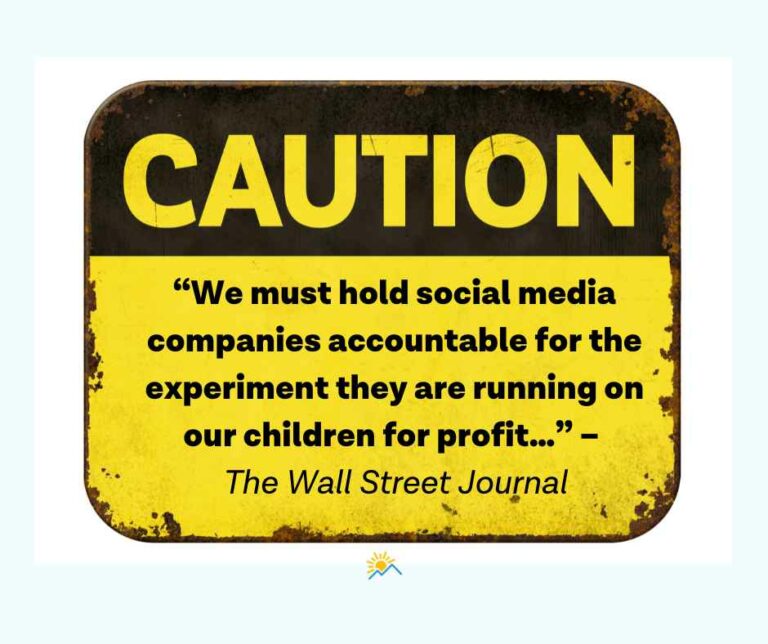 3. Multiple mental health dangers of TikTok for teens
CNN  recently published a study done by the Center for Countering Digital Hate (CCDH):
"For our study, Center for Countering Digital Hate researchers set up new accounts in the United States, United Kingdom, Canada, and Australia at the minimum age TikTok allows, 13 years old. These accounts paused briefly on videos about body image and mental health, and liked them.

What we found was deeply disturbing. Within 2.6 minutes, TikTok recommended suicide content. Within 8 minutes, TikTok served content related to eating disorders. Every 39 seconds, TikTok recommended videos about body image and mental health to teens."
Even though TikTok originated in China (called Bytedance in China), a recent Chinese study admits TikTok can be addictive. 
"Chinese researchers analyzed college students. They gave them videos they liked and took brain scans. It showed certain sections of the brain associated with addiction were lit up." – abc7.com
Other mental health experts agree. Here's why!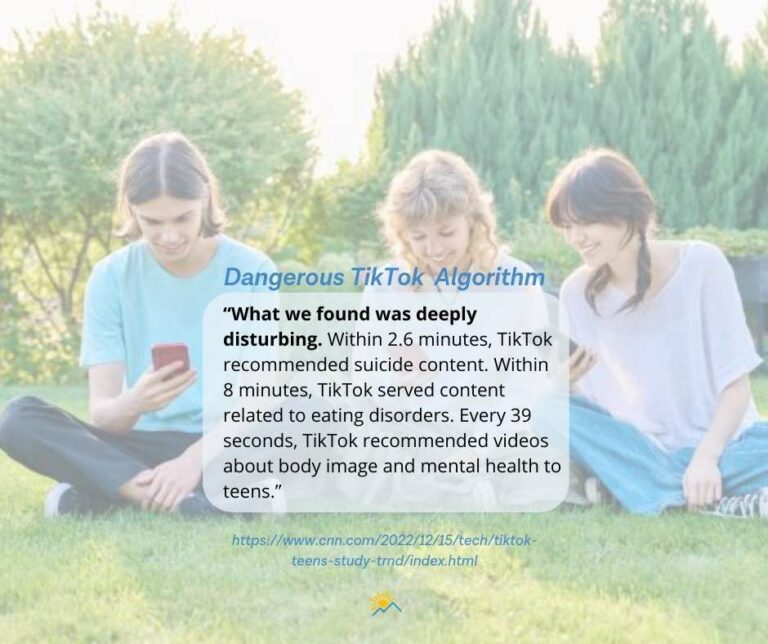 4. The "sticky algorithm" on TikTok increases screen time use – linked to teen depression.
"…psychologist Dr. Jean Twenge said TikTok's algorithm in particular is "very sophisticated" and "very sticky," keeping teens hooked on the platform for longer… 'Many teens describe the experience of going on TikTok with the intention of spending 15 minutes and then spending two hours or more.

This is problematic because the more time a teen spends on social media, the more likely they are to be depressed…,' says Twenge."
5. TikTok and teens – hidden danger of bias 
Influencers and news sources can post anything, although TikTok employs fact-checkers. Combined with TikTok's sticky algorithm, parents should consider who is influencing their teens regularly.

According to a FoxNews interview with FCC Commissioner Brendan Carr, TikTok is:  "The number one place where young Americans get their news…"
FCC Commissioner Carr also notes that TikTok (called Bytedance in China) censors harmful content for Chinese teens only, showing entirely different content of mostly educational materials to Chinese young people.

Unfortunately, TikTok's algorithm pushes dangerous and radically different content to teens as young as 13 in the United States.
Alongside potentially biased content algorithms for US teens, the FBI and CIA also believe TikTok poses a national cyber security risk for data privacy reasons.
6. TikTok – a portal to Child Sexual Abuse Materials
Since it's so popular with minors, Forbes did a recent investigative piece on TikTok's "Only Me" mode, warning of rampant hidden stashes of illegal child sexual abuse materials:

"This "posting-in-private" phenomenon…isn't hard to find on TikTok. While a straightforward search for "post in private" returns a message saying "this phrase may be associated with behavior or content that violates our guidelines," the warning is easily evaded by algospeak."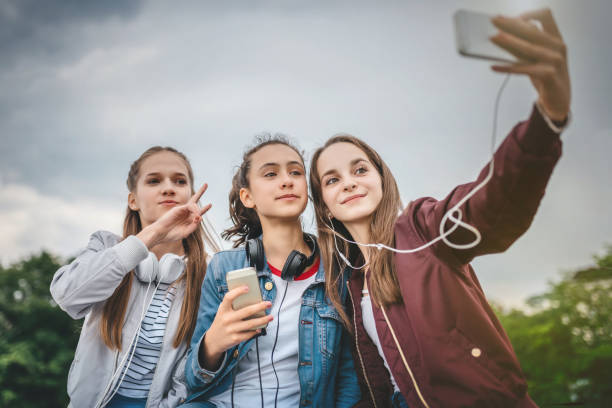 A little good news about TikTok safety and your teen
Though cautiously optimistic, we'd clearly label TikTok as NSFK (Not Safe For Kids).

Think of TikTok like a dash of hot ghost pepper sauce on your taco! If you're extra vigilant, it's possible to partner with and check on your older teens' usage of the app.  With help, wisely navigating TikTok in small doses is possible. Here's why. 
TikTok kicked Pornhub off its platform.
Laila Mickelwait and the National Center on Sexual Exploitation publicly called out TikTok and other social media platforms. Prior to this, Pornhub's TikTok presence was easily accessed by teens. 
Possibly due to this scrutiny,TikTok recently responded by banning Pornhub. Now that's a win for parents everywhere!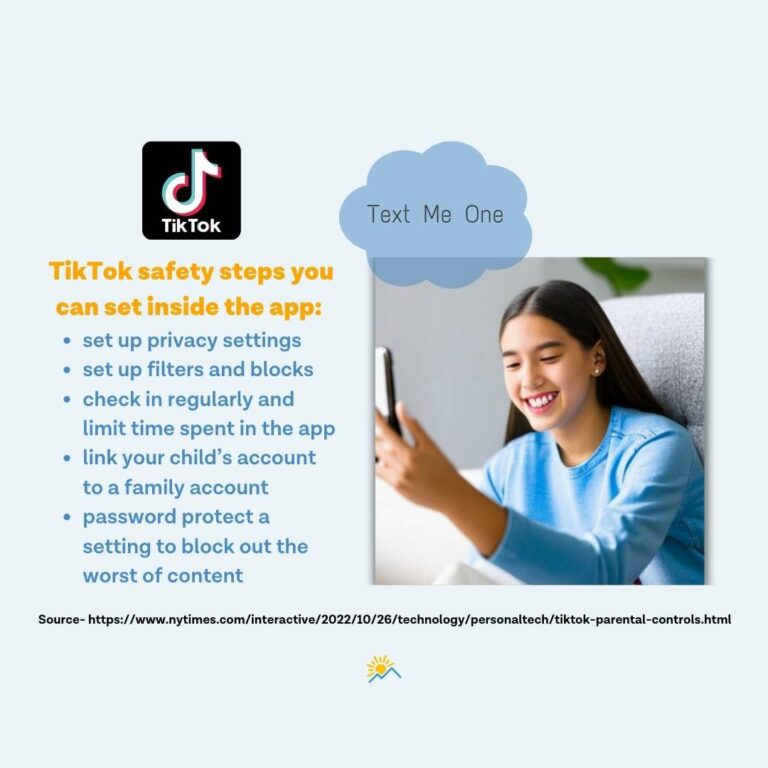 Parental controls are an option inside TikTok 
TikTok boasts parental controls inside the app, which are actually pretty impressive, unlike Discord. However, you will still need to monitor your tech-savvy teens' activity inside TikTok, especially limiting comments and DM's.

Here are some safety steps shared by the New York Times that you can take right in the app:
set up privacy settings

set up filters and blocks

check in and limit time spent in the app

link your child's account to a family account

password protect a setting to block out the worst of content
Safety tips for teens using TikTok
Encourage healthy activities off screen 
Ever worried about your own screen time? (Yes, even GenX accumulates too much screen time.) So, consider approaching the topic honestly and humbly with your teen by saying, Let's work on our mental health together. 
Be creative! Propose a weekly/monthly "screen time limits" challenge. Then gamify the challenge with an enjoyable activity-based reward at the end, like a night out bowling or indoor rock climbing. For best results, let your teen suggest or choose the activity.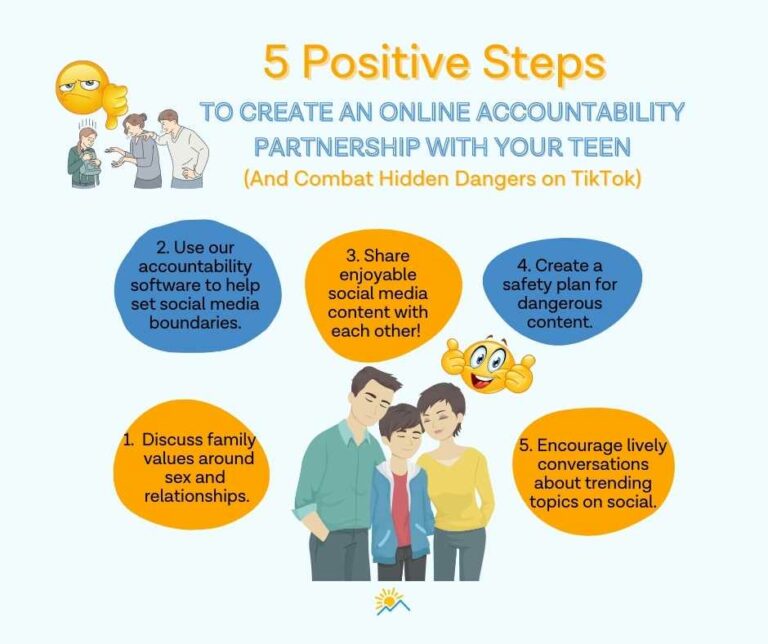 5 positive steps to create an online accountability partnership with your teen.
The ball is truly in your court. However, we're your stealth partner on a mission to protect teens from porn. 
We know it's hard to be the Family Bureau of Investigation, but here's where our accountability app can truly help you up your game!
You can build trust and transparency one step at a time.
Discuss family values around sex and relationships regularly. 

Set up social media boundaries together including screen time limits, safety, and privacy settings. Use our accountability software to help you check in together regularly. Our weekly reports make it easier to stay on top of these boundaries! 

Connect with your teen by setting up your own social accounts and sharing enjoyable or educational content with each other.

Design a TikTok

safety plan

for teens when they encounter dangerous content.

Screenshot. 

Block. 

Report a problem

to TikTok (and then delete screenshots). 

Encourage lively conversations about things you see on social media. Use current news events or trending topics online.

Need help
optimizing our accountability software? 
Here's some savvy digital parenting tips.
Setting up accountability software properly is one key.
In order to check on your teen's social media use, utilize our app set-up guides:
We're always happy to help!  You can reach us directly at support@everaccountable.com. 
Works Cited
Duffy, Clare. "Indiana Attorney General files lawsuits against TikTok." CNN, 7 December 2022, https://www.cnn.com/2022/12/07/tech/indiana-tiktok-lawsuits/index.html. Accessed 23 January 2023.
"Home." YouTube, http://www.nytimes.com/2022/09/16/technology/gen-z-tiktok-search-engine.html. Accessed 23 January 2023.
"How to Use TikTok's Parental Controls." The New York Times, 26 October 2022, https://www.nytimes.com/interactive/2022/10/26/technology/personaltech/tiktok-parental-controls.html. Accessed 23 January 2023.
Moric, Lily. "President Biden Joins NCOSE in Calling for Tech Industry Accountability." NCOSE, 17 January 2023, https://endsexualexploitation.org/articles/president-biden-joins-ncose-in-calling-for-tech-industry-accountability/. Accessed 23 January 2023.
Murphy, Samantha. "TikTok may push potentially harmful content to teens within minutes, study finds." CNN, 15 December 2022, https://www.cnn.com/2022/12/15/tech/tiktok-teens-study-trnd/index.html. Accessed 23 January 2023.
Nealon, Lina. "Pornhub Just Got Kicked off Instagram, YouTube, and TikTok – Here's Why." NCOSE, 20 December 2022, https://endsexualexploitation.org/articles/pornhub-just-got-kicked-off-instagram-youtube-and-tiktok-heres-why/. Accessed 23 January 2023.
Olson, Heidi. "Home." YouTube, https://www.rehope.org/post/why-so-many-teen-girls-are-planning-on-becoming-onlyfans-stars. Accessed 23 January 2023.
Palmer, Alex W. "How TikTok Became a Diplomatic Crisis." The New York Times, 20 December 2022, https://www.nytimes.com/2022/12/20/magazine/tiktok-us-china-diplomacy.html?action=click&pgtype=Article&state=default&module=styln-tiktok&variant=show&region=BELOW_MAIN_CONTENT&block=storyline_flex_guide_recirc. Accessed 23 January 2023.
"Parents Sue TikTok, Saying Children Died After Viewing 'Blackout Challenge.'" The New York Times, 6 July 2022, https://www.nytimes.com/2022/07/06/technology/tiktok-blackout-challenge-deaths.html? Accessed 23 January 2023.
"Teens, Social Media and Technology 2022." Pew Research Center, 10 August 2022, https://www.pewresearch.org/internet/2022/08/10/teens-social-media-and-technology-2022/. Accessed 23 January 2023.
"TikTok poses national security and mental health issues: FCC Commissioner." Fox News, 16 January 2023, https://www.foxnews.com/video/6318742250112. Accessed 23 January 2023.
"Too much TikTok is harmful and addicting to kids, Chinese study finds." ABC7 Los Angeles, 5 April 2022, https://abc7.com/tiktok-harmful-kids-young-adults/11712730/. Accessed 23 January 2023.
"Why experts fear TikTok will exacerbate the mental health crisis among teens." The Limited Times, 12 January 2023, https://newsrnd.com/news/2023-01-12-why-experts-fear-tiktok-will-exacerbate-the-mental-health-crisis-among-teens.By-FdE1pcs.html. Accessed 23 January 2023.