Reading Time:
5
minutes
Choosing accountability is a big bold step forward. We admire and respect you deeply for taking this step!

Additionally, setting up accountability on all of your devices, not just your phone, is a big win for you. It's a key step to being honest with yourself and being successfully accountable to someone else.
Setting Up Ever Accountable On Your Windows Computer
Use these steps for installing Ever Accountable on your Windows computer for the first time. 

If you recently upgraded to a new Windows computer and want to install Ever Accountable, there are slightly different steps to add another computer.
How Ever Accountable Works on Windows
Ever Accountable shares your activity when using the following browsers:
Google Chrome

Internet Explorer

Microsoft Edge

Firefox
Our app shares where you go on the internet and reports it to your chosen accountability partner on the weekly accountability report. Ever Accountable will show all the sites you visit.
We also give a breakdown of all activity, suspicious activity, and blacklisted activity, so that your partner can easily understand your activities online. 
Additionally, your total time browsing and how long you spent using various apps will also be shared.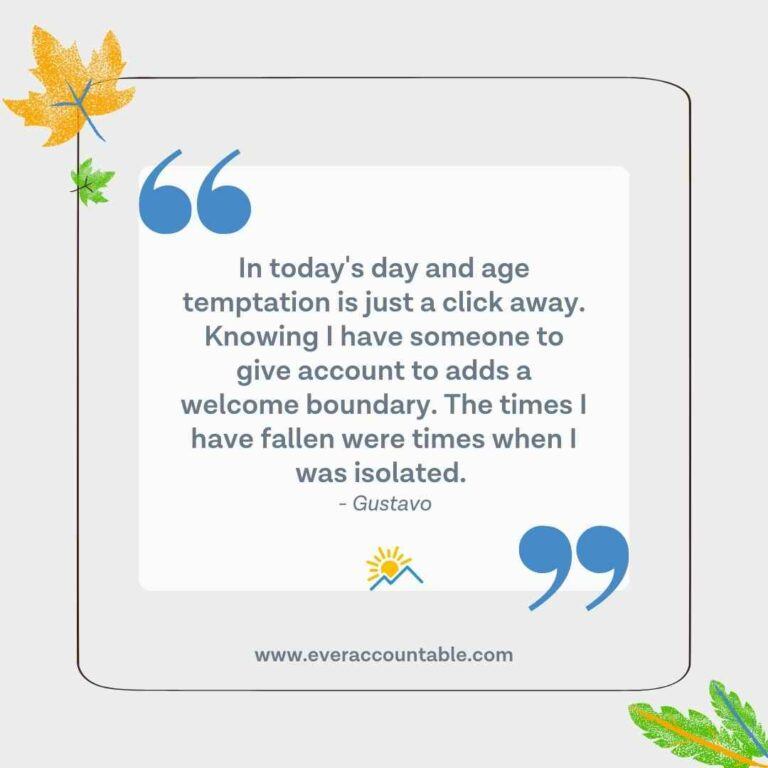 How to maximize accountability with Ever Accountable on your Windows computer

Utilize Ever Accountable on Windows to the max by following these steps: 
Choose to only browse using the specified browsers that we can share your activity with your partner.

Enable random screenshots on Windows under the "settings".
Ask your accountability partner(s) to set up

blacklisted alerts

. (see the section below on utilizing our custom keyword feature)

Make sure  activities are being shared on all tempting apps

By using Ever Accountable in some very practical ways, you can set up taller fences, aka boundaries, between yourself and a porn habit when a weak moment hits.
Every technology has its challenges and will glitch on occasion. We strive for perfection but know there's always room for improvement! Please reach out to support@everaccountable.com if you need tech help!
PRO TIP: Share this guide with your Accountability Partner, so that they can understand how to help you be accountable on Windows. 
How to disable screenshots if needed.
Be sure to type into the appropriate screen your reason for disabling screenshots, as your accountability partner will be notified.
How To Add An Accountability Partner
It's simple. You need a partner to be accountable. So, let's get off to a great start by choosing at least one partner. (Multiple accountability partners – friends supporting friends – is even better.)
When you reach out to someone, let them know they will get an email or a text. Inside that email or text is a SPECIAL partner link that allows them to sign up for free.
The accountability partner link is time-sensitive. If they miss the time window, you may need to delete them as a partner, and then add them back. Be sure to tell them you are sending them a new invitation. Here's the steps: 
What your accountability partner sees: 
You can learn about the basic alerts they receive:
Does Ever Accountable send instant alerts to accountability partners?
It's important to note that content flagged suspicious is not always bad content, so it's important to double check on this. However, blacklisted content is pornographic. 
You can also view this sample report to help you understand the different sections of a weekly report.
Blacklisted alert: This alert is sent via email and text when set up properly. This is triggered when a user visits any blacklisted site on the device. (no screen capture available for this report).
Note: Setting up this alert is made in Accountability Partner's dashboard only. See guide link below:
https://support.everaccountable.com/hc/en-us/articles/360001199291-How-do-I-setup-blacklisted-alert-for-my-partner-
Utilize our custom keyword feature with your accountability partner
Set a time with your accountability partner when you strategize a success plan and create a list of keywords you would be tempted to search. Then your accountability partner can use our custom keywords feature to upload these in order to give them an extra heads up.

If you view items flagged inside "Custom Keyword" settings, your partner will get a "blacklisted alert" on your weekly report.
Also, the custom keyword list can only be modified by your accountability partner for your safety. 
This prompts open, honest conversations. If you create this list together, it diminishes the power of porn. It's also another way to keep yourself honest, as we all struggle with varied temptations. 
Tips for accountability partners (we think you're AMAZING)
If you're an accountability partner, your special link to sign up is included in the invitation you received to be an Accountability Partner.  You would have received this via email or text message.  If you have yet to receive it, reach out to your friend and they can resend the invite.  Your role is critical to their success.  
There is never a charge to be an accountability partner! You are AMAZING, and we appreciate you deeply. Here's a link to a blog post to encourage you and give you helpful tips.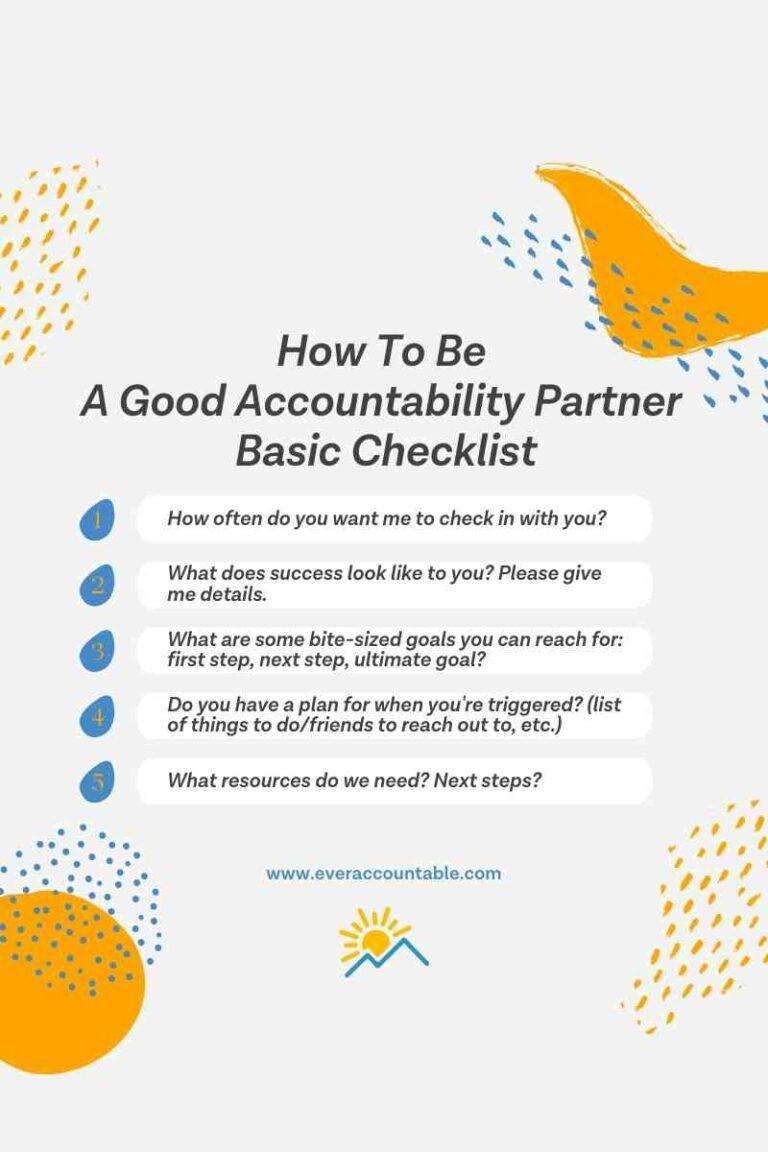 Commit To Total Honesty Using Accountability.
Maybe the struggle is hard — you may need additional accountability partners on your journey. Again, here's how to do this:
How to add an accountability partner on Ever Accountable
What if you were able to be honest and open to a greater level with a group of non-judgmental people? 
Tell your accountability partners, I really need extra help right now. I need to UP my game. Are you able to help me with this? 
Next, it may help to strategically have reports sent to three (or more) different partners on three different days of the week. You can always remove an accountability partner that isn't a good fit for you. 
Additionally, you may benefit – like many others have – from group therapy in a safe setting. What if you were able to be honest and open to a greater level with a group of non-judgmental people who also struggle? 

Also, please explore our additional resources to help you understand and conquer the challenges of quitting porn, so that you can reach for your highest potential.  We're here to support you in every way that we can. 
If you have any questions or technical issues please always feel free to reach out to our caring support team: support@everaccountable.com