Reading Time:
2
minutes
I asked ChatGPT how to stop compulsive porn use.
Its answer was crazy good. So good, in fact, that I wanted to share that "conversation" with you. The six key points are direct quotes from ChatGPT with headings added for easy skimming.
However, since ChatGPT doesn't have years of experience working with people who struggle with porn, I added just a few of my thoughts at the end!
Here's how my conversation with ChatGPT went:
Tyler:
How can a person stop compulsive porn use?
ChatGPT:
"Breaking a pattern of compulsive porn use can be challenging, but it is possible with effort and support. Here are some steps that may be helpful:
1. Try to identify the situations, emotions, or habits that trigger your urge to watch porn. This awareness can help you better understand your behavior and plan ways to avoid or manage these triggers.
2. Talking to a therapist, counselor, or support group can help you work through the underlying issues that may be fueling your compulsive porn use.
3. Engaging in activities that promote physical and emotional well-being, such as exercise, mindfulness, and hobbies, can help reduce stress and provide positive outlets for energy and focus.
4. Consider limiting or eliminating access to porn by using parental controls or accountability software, or by removing it from your devices altogether.
Find alternative coping strategies
5. Try to identify and practice alternative coping strategies for managing stress, anxiety, or other negative emotions that may drive your porn use. This could include exercise, meditation, journaling, or talking to a trusted friend.
It's important to remember that everyone's journey to overcoming compulsive behaviors is unique and that it may take time to see progress.
Don't be discouraged if you experience setbacks along the way, and be kind and patient with yourself as you work towards recovery."
(END ChatGPT)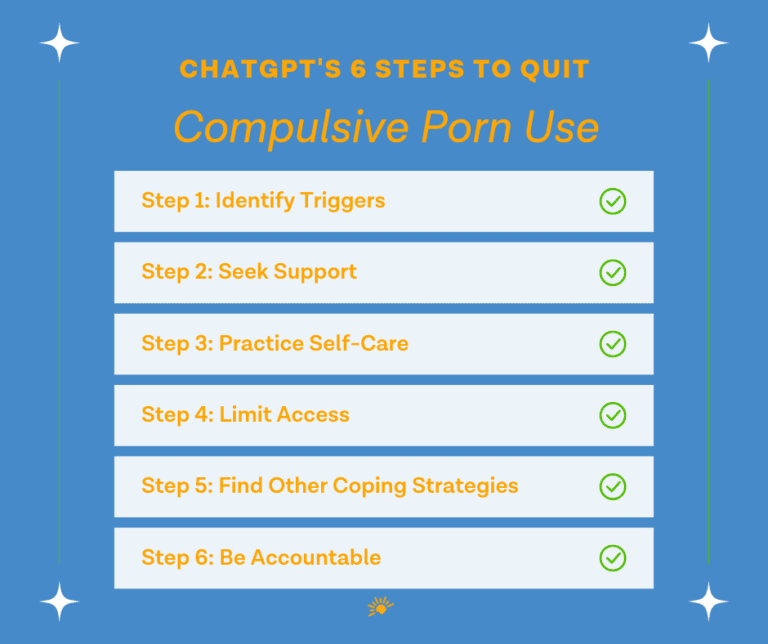 TYLER:

Here are a few of my final thoughts about my ChatGPT conversation, and why I think it's so good!
ChatGPT didn't minimize that quitting compulsive porn use is hard to do and takes time and support. 

It emphasized being accountable, and even mentioned accountability software.

If you struggle with porn on electronic devices, then good protection is an absolute must, and Ever Accountable is the best protection there is. Get it here. 
ChatGPT talked about taking part in healthy activities.
ChatGPT also talked about being patient with yourself in the face of setbacks.
I couldn't agree more! You'll stumble, but as long as you keep trying and never give up, you'll make progress!

-Tyler Patterson
Founder and President, Ever Accountable