Reading Time:
13
minutes
When you think of the most desirable, intimate moments in life, what comes to mind?
If your mind leaps straight to sex, that's understandable.
After all, we're bombarded by sexual messages and innuendos every single day.
However, we're going to address different types of intimacy without sex.

Here's why! Cultivating non-sexual intimacy is a vital step towards rebuilding trust.  Frequently one spouse experiences feelings of betrayal and mistrust when unwanted porn use damages a relationship.
Defining Intimacy In A Hypersexualized World
What happens when cancer steals your sex life? Or you're rebuilding your libido while going through porn withdrawal? Perhaps you're a devotedly celibate single. 

It's wonderful to explore new ways of sharing closeness with your loved one or friend in non-sexual ways.
Let's talk about what intimacy is and why intimacy without sex is good and needful.
Next, we'll explore some creative ways to discover the types of intimacy you and your partner may enjoy together.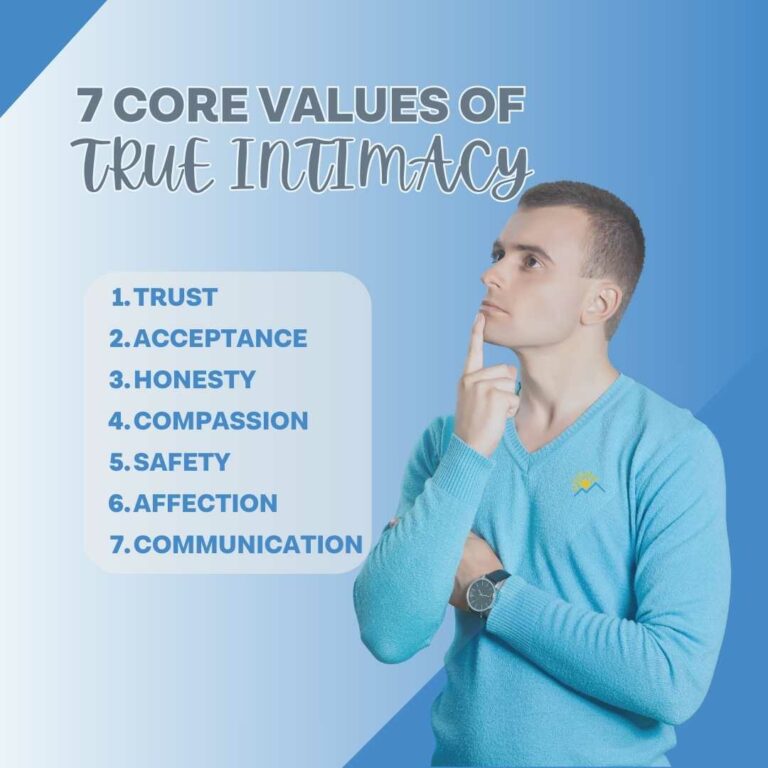 What intimacy is according to the experts
According to Healthline.com, intimacy involves seven key factors:
Trust
Acceptance
Honesty
Compassion
Safety
Affection
Communication.
All of these factors foster closeness or emotional intimacy in a relationship. 
When you look at this list, it's easy to see that there's more than meets the eye wrapped up in one simple word "intimacy". 
Intimacy doesn't happen by accident, and it can't be developed overnight. Instead, building intimacy requires an investment of your time, energy, and emotions. Each type of intimacy matters!
4 different types of intimacy
Physical Intimacy — affectionate touching that satisfies touch starvation. This can be completely non-sexual, such as friendly hugs, pats on the back, or giving a friend a neck massage to help with sore muscles. 
Emotional Intimacy — an intentional growing understanding and enjoyment of what makes your partner "tick" — includes a heart-felt connectedness due to shared experiences.  You experience this when you have a friend who "gets" you.
Spiritual Intimacy — shared spiritual experiences, beliefs, and values
Intellectual Intimacy — learning about and discussing mutual topics of interest together — you won't be boring when you're able to connect intellectually!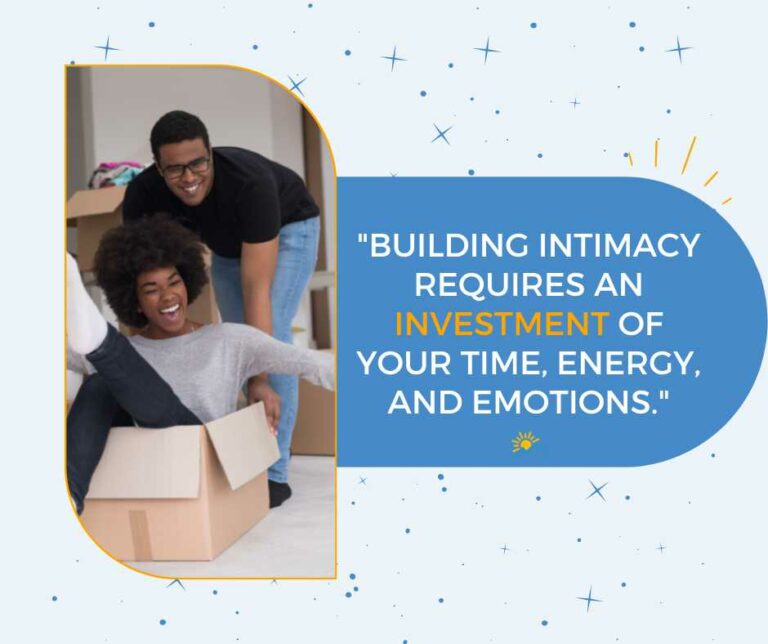 Reasons For Intimacy Without Sex
"...you have a strong desire to stay connected with the love of your life."
Are you trying to move beyond a Tinder or eHarmony online relationship and foster genuine intimacy?
Or maybe you're married and realize things seem stale in your marriage.
Perhaps you're striving to avoid porn which hinders intimacy and fosters isolation.
If you love someone who struggles with porn, your intimacy-meter may feel low at the moment, and you want to change that.
Some other possible reasons you may wish to pursue intimacy without sex are: 
You're rebuilding trust with your partner due to porn use or an affair.
You're struggling with sexual problems such as potential porn-induced erectile dysfunction (PIED).
You're experiencing porn withdrawal — flat-lining symptoms.
You're welcoming a new family member — pregnancy and childbirth related break in sex life.
You're in the disability community — married to a disabled partner, and sex is less of an option due to ongoing pain or physical limitations.  
You're facing cancer or other sudden on-set, life-threatening illness.
You have an ongoing struggle with chronic Illness of one partner — chronic illness often sucks the life out of the sex drive.
You're a mil-spouse and your partner is currently deployed. 
You're facing symptoms of older age with less sex drive, but you have a strong desire to stay connected with the love of your life.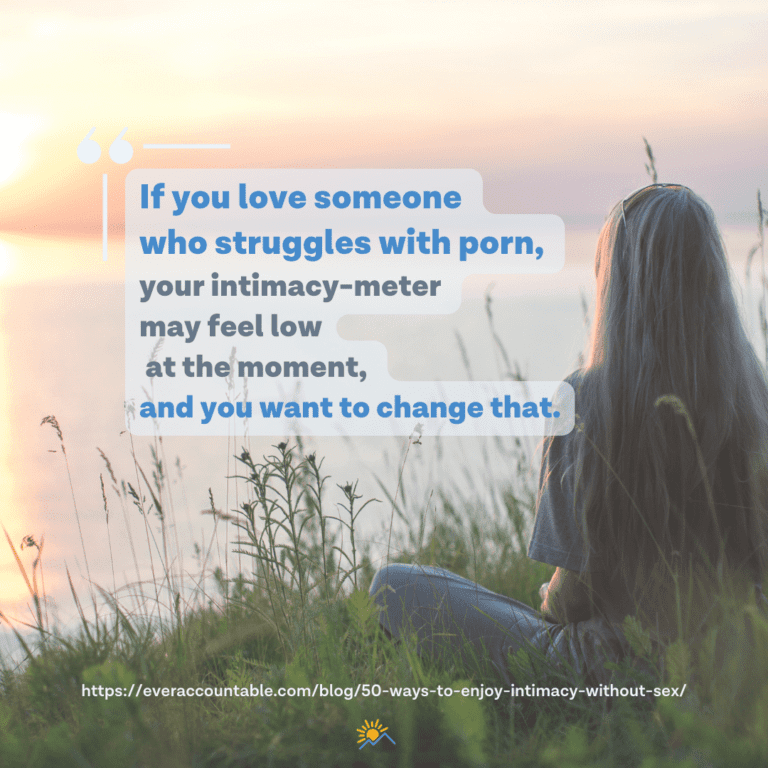 50 Creative Ways To Enjoy Intimacy Without Sex
"Choose JOY and develop a routine of delight." — Jay Stringer, author of Unwanted: How Sexual Brokenness Reveals Our Way to Healing
1. Practice smiling at your spouse every day.
When you smile at someone intentionally, you're sharing something positive that in turn elevates your mood and theirs. Smiles are contagious! You might even rediscover how much you love your partner's unique smile. 
2. Plan a regularly scheduled talk time each week.
Simple-sounding, but often difficult to actually accomplish, right? This takes time and actual planning. Put your spouse on your calendar marked "high priority". 
3. Create a shared "love-tank list" and choose an item to do each week. 
We all have a unique "love tank" that needs filling. A popular book, The 5 Love Languages, talks about this. It's a great read on your journey to building intimacy without sex. When you're running low on new ideas, you'll have something to fall back on — besides this list. (But keep reading…)
4. Break a habit that annoys your partner.
Well, it's true! We all have a habit that greatly annoys our partner. If you don't think you do, um, well, just ask them. Sometimes it's as simple as picking up your dirty towel or underwear off the floor, but if you need help conquering a bad habit, check out this article. If you've been married for a while, this act could evoke deep, deep feelings of gratitude in your spouse. 
5. Write notes of gratitude to your spouse.
Not only is gratitude good for your own mental health, everyone loves a moment of true appreciation. This idea even has Biblical roots, "Give thanks always."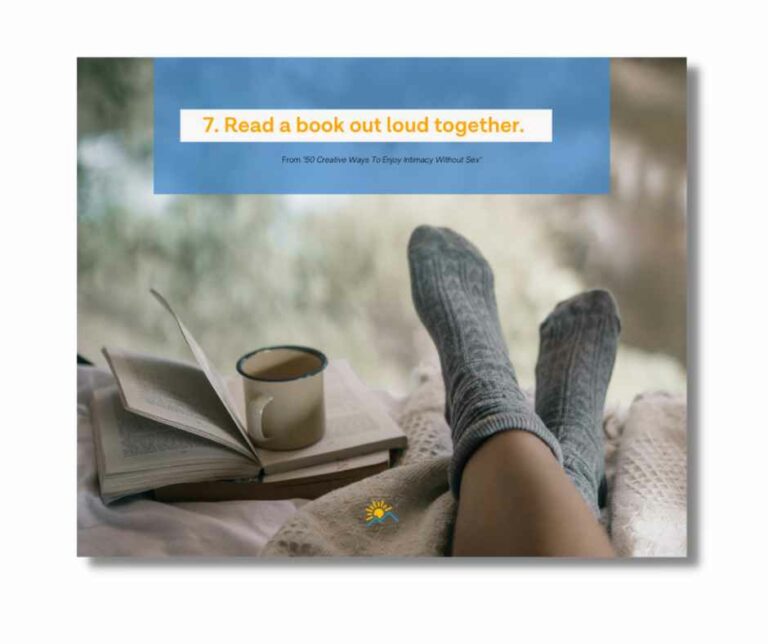 6. Play your partner's favorite music while in the car together.
If your musical tastes are very divergent from your partner's, here's a true act of affection. Need we say more?
7. Read a book out loud together. 
Bond over ideas in a good book. Or create a safe environment to discuss differing perspectives. Besides boosting conversation, reading books together feeds intellectual intimacy.  Meaningful conversations are signs of real progress on the intimacy scale. If you're struggling in some way with porn, check out our reading list here. 
8. Serve breakfast in bed together (sans kids). 
For some, breakfast is their favorite meal. If you're not a breakfast person, and your spouse is — well, your sacrifice to create intimacy will not go unnoticed! (Waffles with strawberries and cream, anyone?)
9.  Practice romantic but non-sexual touching.
This New York Times article shares advice from a NYC therapist, Damon L. Jacobs: "Start with a mutual understanding that demands kill affection," Mr. Jacobs states, "None of us can fully be open and vulnerable when there are consequences attached to not feeling open," he said. Once an understanding is established, work on aligning on what your needs and wants are and create that space for intimacy. Then, schedule a "touch session," says Jacobs. The goal shouldn't be sex, Jacobs explains, but to "connect without any expectations." 
10. Do your spouse's least favorite chore without telling them first. 
Knowing your spouse's likes and dislikes is, in and of itself, an act of caring. If you're blissfully oblivious to what their least favorite chore is, all you have to do is ask. What a wonderful surprise if your love language is "acts of caring".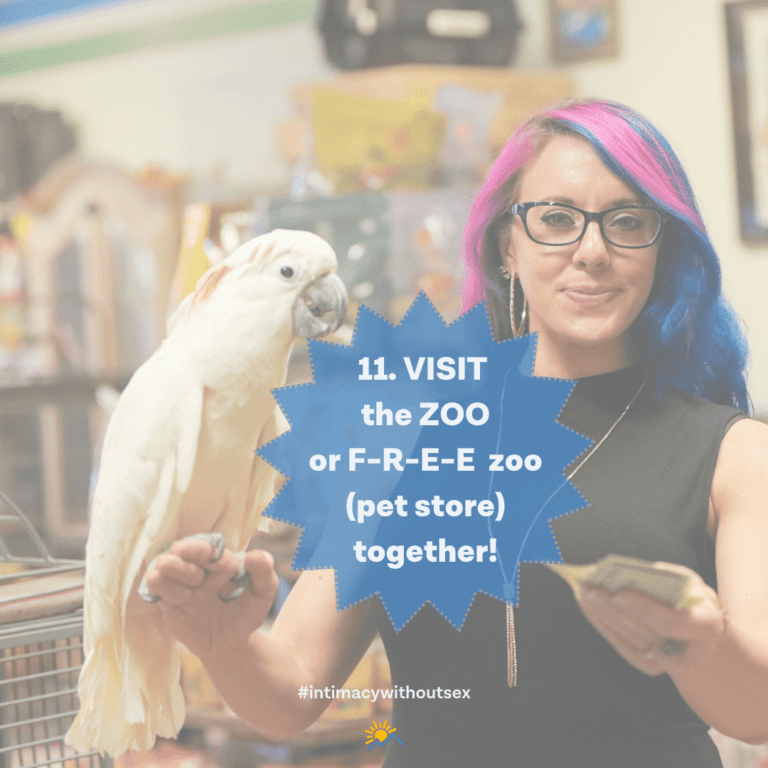 11. Visit the zoo or "free zoo" (pet store) together. 
If you hate fur and feathers, but your spouse is the opposite, this idea might get bumped to the bottom of the list. However, pet lovers bond over enjoying all creatures great and small, even if you don't have a zoo nearby.
12. Play board games or video games together.
Do you have a fiercely competitive streak? Choose your game wisely. Check out the Discovery game, recommended for couples. Or, enjoy a cold or rainy evening indoors with a set of cards or two controllers and a screen. 
13. Plan a stay-at-home movie night for two.
Pro tip: Agree on the movie ahead of time and avoid a spousal spat over movie choices. Otherwise your night could be a real intimacy-downer. Another great night to hire a babysitter, too, even if they're in another part of the house with the kids. 
14. Go on regular date nights. 
Some of the most vibrant couples we know still date years later. Maybe this is the best-kept secret of intimacy? And it doesn't need to be expensive. Here's a guide to free or cheap date ideas. 
15. Get outside together. 
What could be better than harmony with nature — and each other? Sometimes a change of scenery is all that is needed to spark conversations. Togetherness outdoor activities could mean a ropes course, cycling, gardening, or simply walking trails together. The possibilities are only limited by your energy and imagination.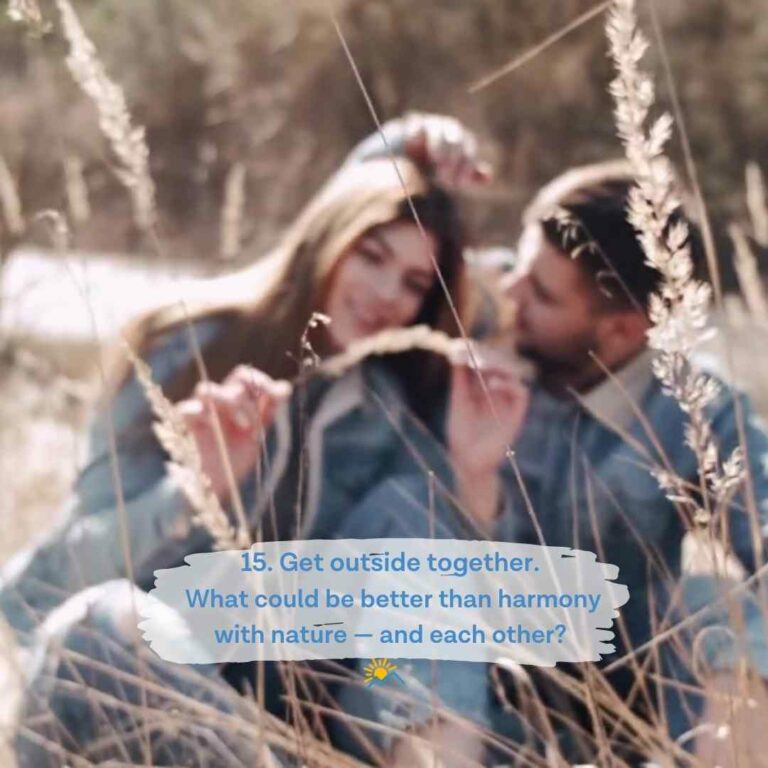 16. Share favorite poems with your special someone.
For fellow word-nerds, this is a deeply satisfying activity. Try for an "everything bagel" approach — a smattering of different poetry genres. Even more impressive? Memorize a stanza or two and quote it with dramatic flair for your partner. 
17. Try out a new hobby together. 
Anything from home-brewing, gourmet cooking, making pottery, to woodworking can be a fun, intimacy-building activity. The challenge is deciding what you both would like to tackle together. More time and money are required for these activities, usually. 
18. Plan a dream adventure together.
Similar to a new hobby, you'll have to invest a little more time and possibly more money into this idea. Some couples have purchased a motorcycle and taken a cross-country trip together. Others dream of traveling abroad or sky-diving.
19. Help someone else's dream come true. 
Some couples take a mission vacation together visiting third world countries, contributing their skills to help with a project. Building wells, repairing orphanages, doing whatever is needed for someone in need could be a life-changing, intimacy-building experience. Need to stay closer to home?  Consider helping out at your local homeless shelter or a kid's cancer center together. The needs are endless.
20. Pray together. 
Spiritual intimacy also takes planning. Nothing's better than when you are able to text your partner and say, please pray. Or you pray together before sleep each night. Just make sure you're both on board. Forced spirituality never builds true intimacy.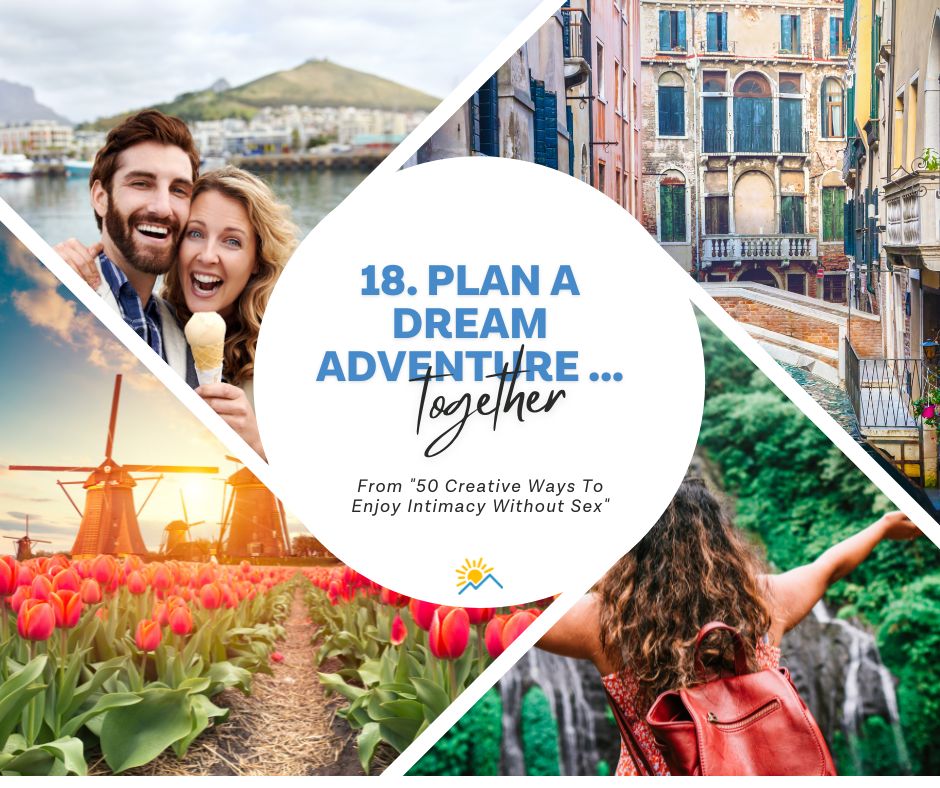 21. Unplug from tech for a day together. 
Disconnect to connect! That's easier said than done, right? But imagine the days before smartphones, or even telephones. Maybe just park your phone in the house while you do yard work or something less strenuous and enjoyable together. 
22. Create a love-note mailbox, geocache style. 
While you're at it, take a note from Little Women where the girls exchange notes with their next door neighbor this way.  Or think of this as your own private geocache. Put up a little weatherproof box somewhere. You could even leave hints as to its whereabouts that only your partner will find. Then leave little love notes, books, and other tiny treasures behind for them to discover. 
23. Help your partner catch up with something on their list. 
Maybe his car hasn't been vacuumed for a month or two. Or maybe she's fallen behind on cleaning the shower every week. Create a feeling of affection in your spouse by tackling a job they normally do. (One caveat — make certain it's a job they won't mind your help with. Like color coding their sock drawer. Nope!) 
24. Surprise your spouse with their favorite snack. 
Food speaks louder than words, especially when it's accompanied by the action of giving said favorite food. You might even see your partner's eyes light up when they spot you standing there with your hands behind your back.
25. Use a secret code to say something sweet to your spouse. 
Ummm, remember "ig-pay atin-La"? Speaking "pig latin" or tapping out a message in Morse Code could spark a moment of intimacy in a zany way. Especially if you bond with James Bond. This is for those spy/mystery-loving couples.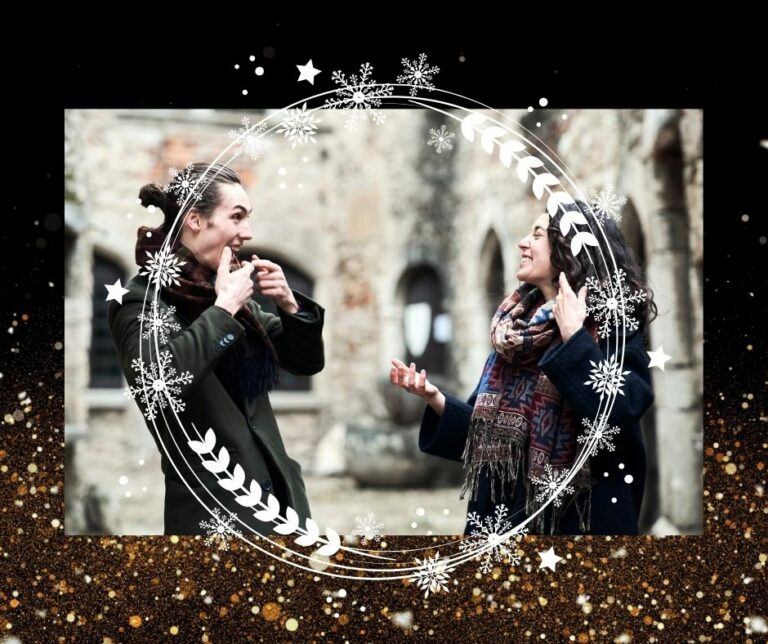 Shared laughter? Priceless!
26. Find a way to laugh hilariously together — with a favorite comedy show.
Whether you bond over "Drybar Comedy" on YouTube or an old "I Love Lucy", finding out what tickles your spouse's funny bone is worth its weight in gold. Shared laughter? Priceless! 
27. Take a country drive to explore new places together.
One of my mom's favorite childhood memories is her random Sunday drives with her family. Notch this experience up a bit by making it just the two of you. 
29.  Get up in the middle of the night to watch shooting stars together.
If you combine the perfect season for meteor showers with the perfect weather, this could be a magical moment to remember for a lifetime. Speaking of memories…
30.  Ask your partner about their favorite memories and listen intently. 
Good memories deserve to be shared. Since memories make up the fiber of your partner's being, you'll also develop a more intimate understanding of your partner.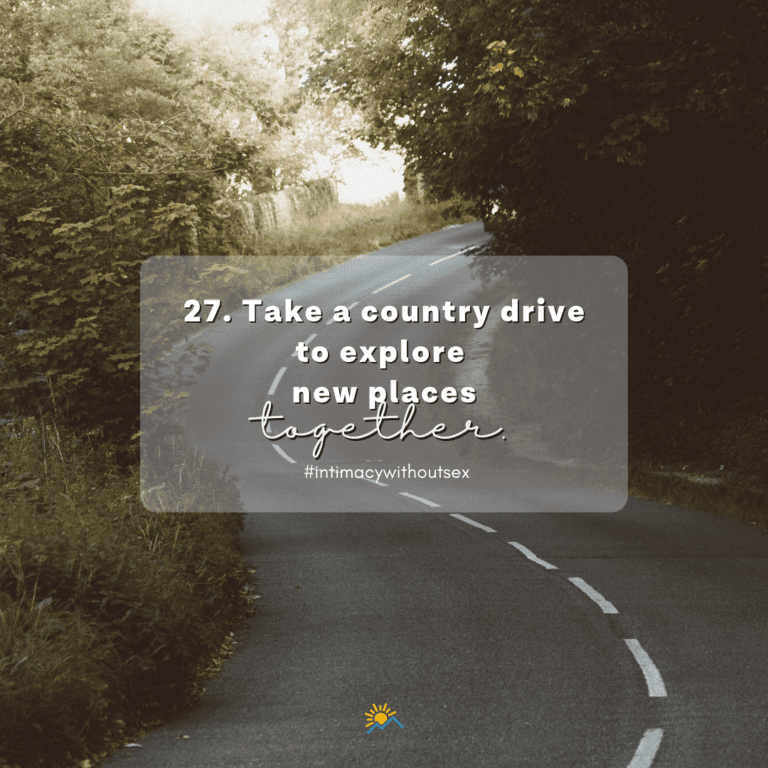 31.  Make up a "once upon a time" story for your spouse.
You could even make this an embellished story of "how we met" if you're at a loss for another story-line. Remembering details that your spouse has forgotten brings back a wave of nostalgia and hopefully some shared feel-good dopamine!
32. Cook your partner's favorite meal and serve it with style.
Maybe you'll need to invest in an outfit and some gourmet ingredients. If you're not a cook, bring home your favorite take-out and serve with a flair. 
33. Slip a hand-written note into your partner's pocket, purse, or briefcase.
I have a box of "love notes" from my family, friends, and former students. When I need a pick-me-up, I pull this out and start reading. There's nothing like a handwritten note. 
34. Sing a corny love song to your spouse — complete with a wink and a smile. 
My grandfather was so good at this. Maybe it's because the 1920s, 30s, and 40s birthed some incredibly sappy-sweet love songs. "Jeepers, Creepers, Where'd You Get Those Peepers," anyone? Or how about this one, "Let Me Call You Sweetheart, I'm In Love With You"?  You pick your favorite genres, though, to spark some sweet intimacy without sex.
35. Promise AND do something that's on your partner's "honey-do" list. 
Making and keeping a promise builds incredible trust. Keep your promises promptly, too.  Dare we say, a promise kept is sexy if you're doing something important to someone you love? 
36. Look your partner in the eyes and verbally affirm one of their good qualities.  
Does this give you goosebumps? Well, it might just do this for your partner, even if it feels hard for you. Pleasant words are sweet tasting all the way down to our very souls. Do you remember pleasant words that someone spoke to you "making" your day? That's what we're all looking for, right? To be known and loved. Some days we especially need loving affirmations despite ourselves!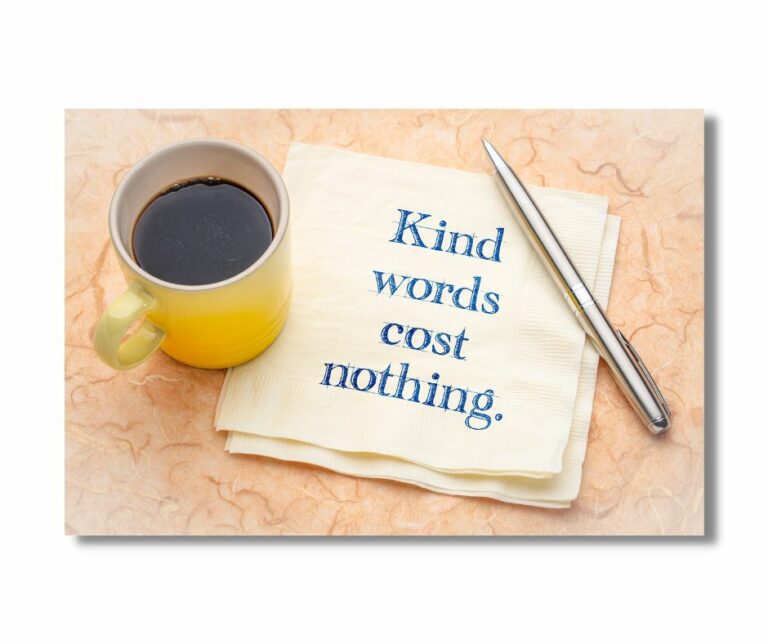 37. Practice a daily hug — and mix it up a bit. 
A different day — a different hug. Maybe your spouse is sick and sore, healing from chemo, surgery, or childbirth. Just a gentle, sweet hug will do wonders. Or there's the long, long hug of assurance after a difficult day. Then there's the "sneak up from behind hug" that's playful, fun, and expresses your sheer joy at being home with your partner. Hey, ask your partner about their favorite kinds of hugs.
38. Bring your spouse a beautiful rock, leaf, or flower that you found outside. 
You're never too old to enjoy a beautiful bit of nature. Maybe you need to tap into your inner child again and notice the shades of colors, intricate shapes, and extravagant textures found even in the tiniest things. Then share the wonder! 
39. Make a memory book together.
If you've had an extraordinary experience, or are suffering a loss, making an online photo memory book together is a way to heal together instead of growing apart. Care-giving, distance, or grief take a toll on relationships. Maybe you're in the process of a long goodbye. Taking the time to make and save memories together is a priceless gift of intimacy without sex.
40. Have a picnic together in a favorite spot. 
Fresh air, food, and… ants… Need we say more? So pack some insect repellent, too. But here's to an adventure that builds emotional intimacy. Sometimes the view — and each other — is just what you need to hit refresh on the intimacy factor. 
41. Ride go-carts together.
Let down your hair (if you don't have any left, this might not be the best activity for you — but we won't tell…) and feel the wind in your face. This is a great activity if your partner has a need for speed and never got over it!  
42. Do a 5k together. 
We'd say this is another activity for the young and restless. But the sky's the limit. If you're in your "golden years" and want to do a 5k together — go for it. The exhilaration of exercise-induced dopamine plus shared sweat and aching muscles is the kind of experience that bonds some couples together. 
43. Dream up the good you could do together if money wasn't an issue. 
Be sure to write these ideas down, every little detail. You might even record a video together of your ideas to capture your enthusiasm. Create a timeline and a game plan. If you're the entrepreneurial type, you might be pleasantly surprised what you can actually accomplish on your "Dream 500" list! Sometimes dreams really do come true.
44. Have an arts and crafts day together. 
The story behind this idea? My grandfather was a tough cowboy in his teens, a WWII veteran, and then a hard-working small business owner. His surprising secret? He loved taking painting classes with my grandma in their golden years. He also created a special garden together with her.  So give it up for the secret Monets and Georgia O'Keefes among us! 
45. Slip your partner their favorite beverage when they're busy and bothered.
Nothing says love and caring to some of us like being handed a hot cup of coffee or tea — or something stronger — when we're stressed.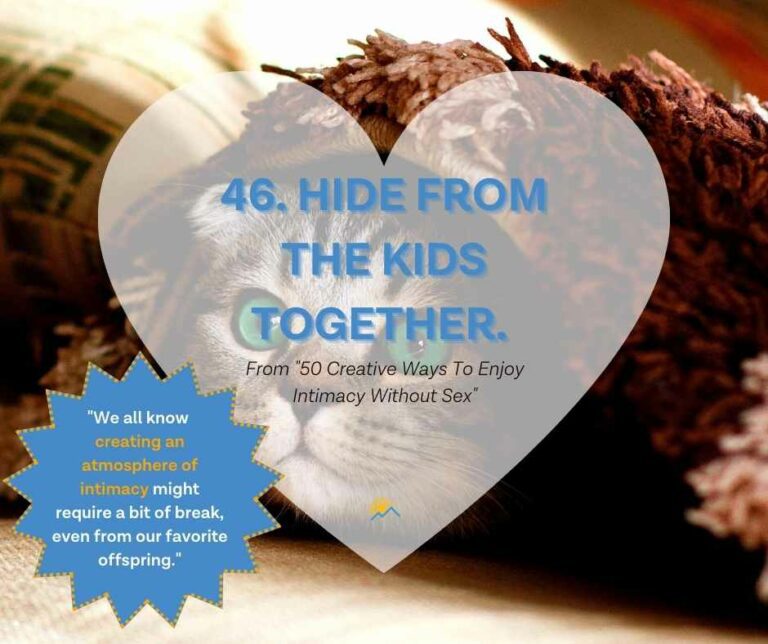 46. Hide from the kids together. 
We all know creating an atmosphere of intimacy might require a bit of break, even from our favorite offspring. Whether this involves staying at home and hiring a babysitter, or simply creating a personal couple's retreat — it's completely up to your creativity. Then go ahead and snicker together when your kids can't find you … for a bit.
47. Schedule reminders on your phone or calendar to say something positive to your partner. 
Ever forget to say something nice to your partner on a busy day? Oops! Being intentional about intimacy requires some self-help strategies, right? 
48. Do your partner's hair, makeup, or give them a mani-pedi. 
While this might seem like an off-the-wall idea, here's a fantastic way to relieve the touch-starvation factor we mentioned earlier. For some, the act of someone doing their hair for them promotes feelings of relaxation and intimacy without sexual pressure. Others hate having someone touching them this way. Just ask your partner! 
49. Give a small surprise gift that you're sure will delight your partner. 
While this might seem like an overdone "intimacy" idea, receiving gifts is one of the five love languages. Do a little more detective work about your spouse if you're unsure. Most of the time, a sweet little inexpensive gift will do. 
50. Take a dance class together. 
Even if you're uncoordinated, country line dancing or swing is also just sheer fun and good exercise for all ages. It's okay to have two left feet — if you're having a great time together. Having fun together not only releases endorphins and healthy dopamine, it also fosters emotional intimacy.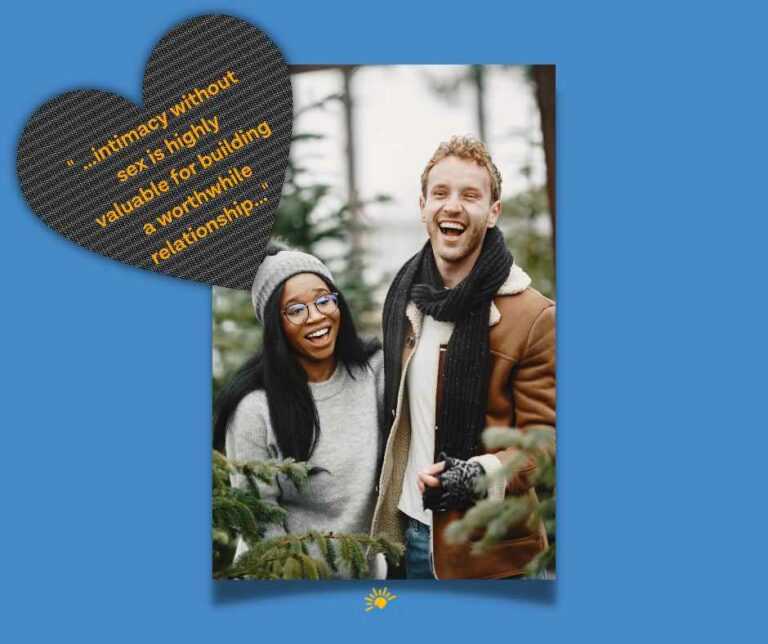 Building Intimacy Without Sex -- Getting Started
To begin this journey, simply make time to talk about non-sexual intimacy with your partner. Both partners should feel loved, heard, and respected in this important conversation. Find a setting that is relaxed and enjoyable, with no (even cute, cuddly) distractions. Money spent on a baby-sitter is well-invested!
Be prepared to discover things you may not have known about each other. Maybe start by asking your partner how you could make them feel loved without feeling pressured sexually — a "no-strings attached" offer! 
Next, ask yourself how you would like to experience intimacy, too. Then express this to your partner. Ready to accept the challenge of this exercise? Well, we've got you covered. Try choosing a quieter activity off our list below to help get your conversation rolling.
How Intimacy Without Sex Benefits You and Your Partner
The benefits list could be quite lengthy, so we'll keep it simple. One of the core benefits of intimacy without sex is that it helps build trust with your partner. 

Intimacy especially aids in rebuilding trust in a damaged relationship. Women commonly suffer betrayal trauma when their partner repeatedly relapses into porn use.
And porn often creates the false expectation that sex should be demanded as a right. Instead, doing the hard work of building intimacy encourages mutual care and compassion for each other. 
Pursuing intimacy without sex also helps couples work on their communication skills, building an atmosphere of honesty and mutual enjoyment. What a beautiful path to harmony despite differences!
One more bonus? When you feel safe and loved, your mental health improves as well.
To sum it all up, intimacy without sex is highly valuable for building a worthwhile relationship, not just based on physical attraction or your personal needs. We hope this list will spark JOY, connected-ness, and creativity in your relationship. Nothing would make us happier. 
P. S. And when you're ready to spice things up a bit…80 + Fun Sexy Games For Couples