Reading Time:
6
minutes
"Please help! I've had a relapse, and I've been watching porn again!" Your friend Jamie (fictional name) has just reached out. Now what do you do? 
Your hidden hero role as an accountability partner has been activated! How you respond to a porn relapse is important. Here are some quick suggestions and things to remember as you reach out to support Jamie.
Crucial first step after a porn relapse report - do this (not that)
If you'll take a deep breath, plus a few minutes to read this, you can quite possibly help your friend avoid a longer-term porn relapse! What you do next really DOES make a difference.
Call your friend promptly.
But – don't text or email, if at all possible!

Instead, call Jamie and talk on the phone or try to meet up in person.  It's critical that you do this as soon as you can.

Remember, it takes courage to report a relapse, and your friend Jamie is likely nervous about your response. 
Silence is communication. When an accountability partner doesn't respond to a relapse report, Jamie may assume you are ashamed or upset with them. 
Next, read through this porn relapse guide before reaching out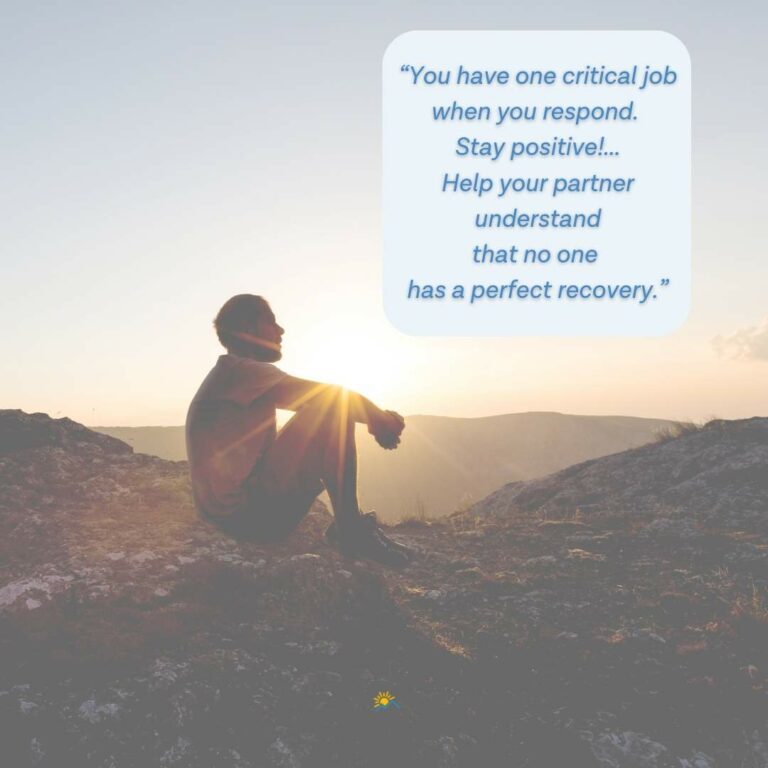 What is the most important thing for you to keep in mind when you reach out? It's preventing this relapse from undoing all the progress Jamie has made. 
Stay positive: why this is the most important part of your response.
You have one critical job when you respond. Stay positive! Jamie is at a low point right now, and probably feels like a failure and worthless. 
Your friend Jamie probably thinks you are disappointed, or even disgusted by them. Help Jamie understand that no one has a perfect recovery. Your unconditional support and kind respect will never be forgotten. In the words of Amu, it's scary initially to ask for accountability help: "My friend was so supportive. That was freeing!"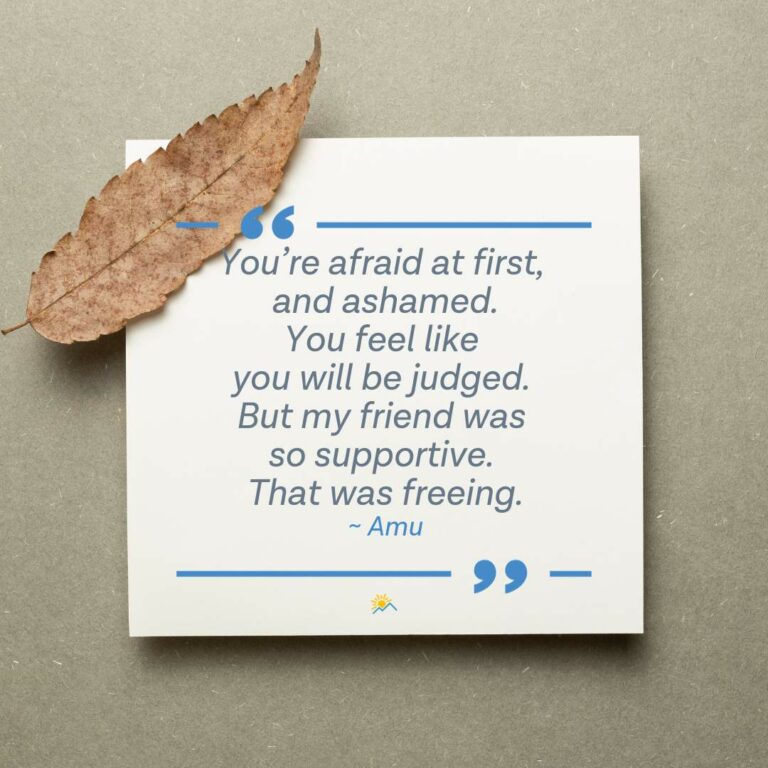 Remember your role – the big picture goal!
Before you do anything else, take a minute to remember that your main role during a relapse is to stay supportive. This is about helping Jamie overcome a hard challenge and reach for important goals. You're not trying to "fix" anything when you respond. 
 A relapse isn't your fault. 
You're not responsible for the relapse. Say this out loud to yourself if needed. 
A porn relapse doesn't mean you're a bad accountability partner. Figuring out what happened and why can come later. Right now, it's vital to show support and love. 
Inside, you may be experiencing negative emotions yourself, such as hurt, fear, sadness, or anger related to Jamie's pornography use. These types of emotions are normal. Try not to let any negative emotions you may have get in the way of expressing love and support for Jamie!
Plan for the next meeting within 48 hours.
When you meet with Jamie, offer support and encouragement. (See the specific suggestions on how to do this below). However, it's also important not to simply call, have a short conversation, hang up, and move on. You want to help them avoid a second relapse! 
When someone relapses once, it is likely to happen again shortly after. It's important to follow up.
After your first call or meeting, set up another check-in within the next 48 hours.
This is critical to ensuring accountability remains high during the high-risk period immediately after a relapse.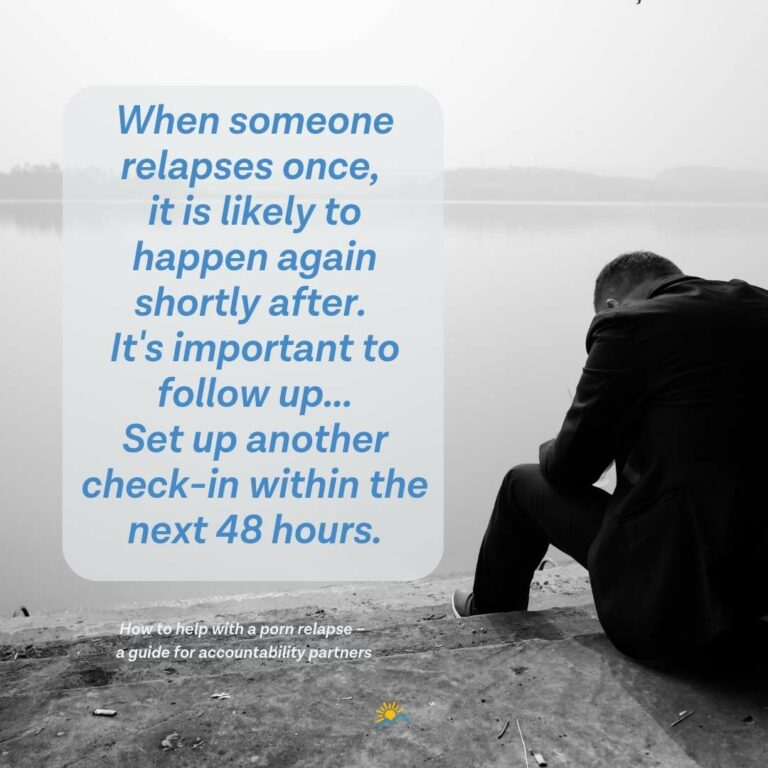 How to offer support and encouragement during a porn relapse meeting
What should you say when you meet with Jamie? Here are five ways show your support:
Review the positive progress.
Remember, Jamie will be at a low point right now. Focus on the positive steps they have taken in their recovery. If Jamie is at the beginning of a porn recovery journey, the biggest positive point may simply be saying this: "You're choosing to be accountable right now – a very brave, positive choice!"
Celebrating each positive step reminds both of you that Jamie has likely taken several steps forward for every step backward. 
Remember to acknowledge successes

.
Supportive responses do not deny the harmful effects that relapses have. However, rather than dwell on the negative, focus on the positive. Remind Jamie of specific successes during their recovery journey. Also, writing these down provides tangible evidence for hope.  

Seek to genuinely understand how they are feeling.
Asking questions about how Jamie feels and listening non judgmentally is one of the most important things an accountability partner can do. Never assume you know how they feel! Ask Jamie, and practice active listening. 
Ask what your accountability partner needs right now.
Just as you shouldn't assume you know how Jamie is feeling, don't assume you know what they need to overcome this relapse. Being a good accountability partner involves asking, "How can I support you right now?"
Jamie might just want you to listen, may want an activity to distract them, or may need your reassurance. Next, being willing to help in the way that Jamie needs provides practical support to prevent further relapse.
Focus on the next 48 hours for porn relapse prevention.  
Now is not the time to focus on the big picture. Don't worry about what this relapse means for the coming weeks or months. Instead, focus on the next 48 hours for your mutual sanity. Again, relapses make pornography use much more likely in the short term. 
That's why a specific plan is vital for what the next 48 hours will look like with Jamie.
Are there stressful situations or known triggers ahead? Whatever the case, please make sure to set up a second check-in during that period.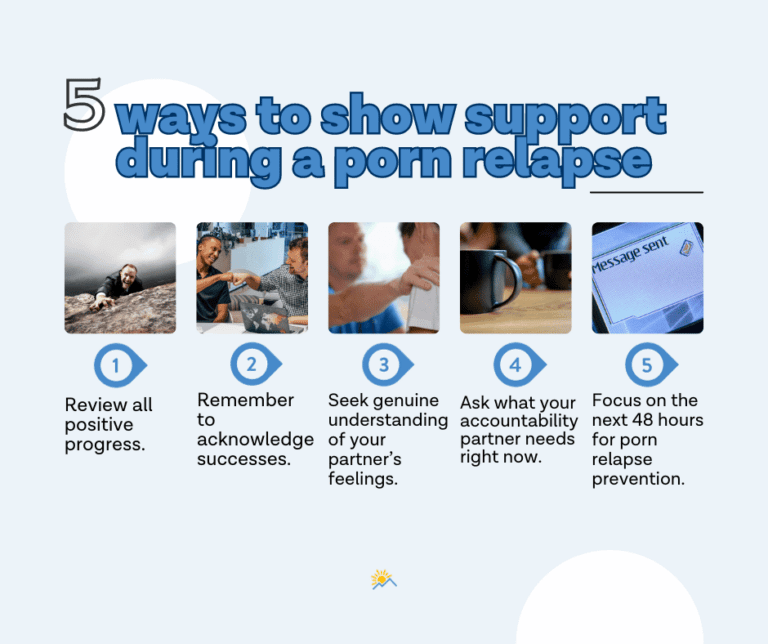 Special Tips for Accountability Spouses and Romantic Partners
If Jamie is your spouse or romantic partner, here are a few extra things to keep in mind. We highly recommend that you review our accountability partner resource for spouses found on our resource and support page. Here are two key highlights to keep in mind.
Reactivity needs to be avoided.
Learning that your partner had a relapse can lead to what experts call reactivity. This is when we get flooded with stress or negative emotions and lash out at our partner. Learning about porn use often feels like a violation of trust in a relationship. 
That's okay, and your feelings are valid. However, try to avoid attacking or letting angry outbursts define these conversations. This will only further shut down lines of communication with your partner. 
At the same time, it is essential to work through these emotions and feelings with your partner in the long term.

For the short term, focus hard on building trust and connection in your relationship so that relapses can be openly discussed, not hidden. Remind yourself and your partner that you're grateful for their painful step of admitting to a porn relapse. 
Conversations about relapses between loved ones may feel charged and emotional. Take a break if you feel too much stress or have difficulty staying positive.

A break means you agree to return to the conversation, not avoid it. 
If you're going to take a break, set a time frame to return to the conversation. It may be 5 minutes, an hour, or even the next day.  Whatever you do, make the break clear and stick to it. 
With these key factors in mind, you're ready to reach out and call or meet with your partner!

Remember, you don't have to be a perfect accountability partner. You're not the fixer! Your friend or partner will have to put in the hard personal work. Your vital, irreplaceable role is mostly to be present and supportive!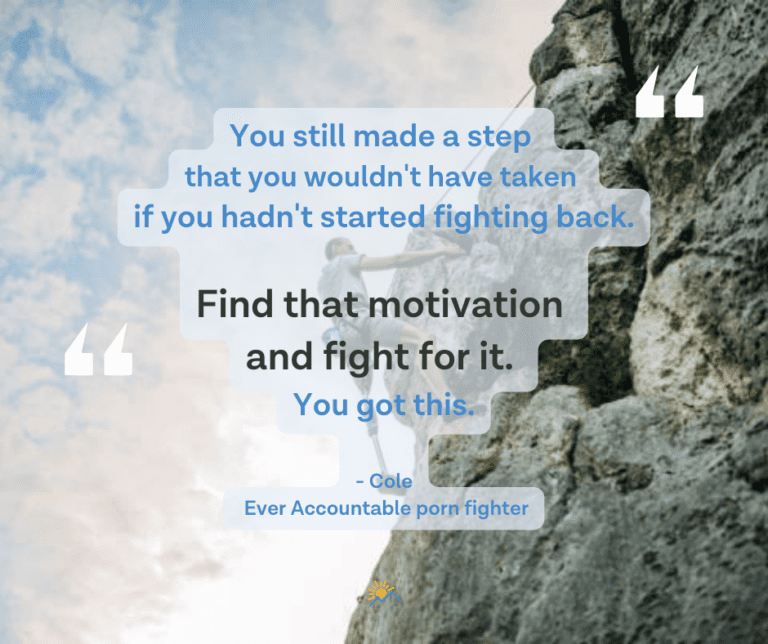 Take courage from stories of others who've overcome porn relapses
Though no one's porn recovery looks exactly alike, the stories of *others who are farther ahead are reminders that achieving a porn-free life is possible. 
Encourage your friend or loved one to also join a porn recovery group! It's the perfect way to meet others who understand the challenging journey and be inspired by their stories. 
Plus, the more positive support your accountability partnership has, the better. Right now you might be breathing a sigh of relief that you've helped your friend through this porn relapse in a healthy way. However, being an accountability partner can feel like a heavy responsibility. Happily, when there's a support group involved, you don't have to be the sole supporter! 


*Ever Accountable's blog is not intended to be a substitute for professional advice, diagnosis, or therapy, though we often link to medically reviewed studies.
*Visit our blog for more encouraging porn recovery stories. You can read about Julius, Cole, Amu, or from a partner's perspective – Melissa.
If you have a story to share to encourage others, please reach out to us at marketing@everaccountable.com.