Reading Time:
9
minutes
Kids and porn. Those two words shouldn't even ever belong in the same sentence.  However, pornography consumption spreads across the globe like a tidal wave. Speaking up and speaking out about the harms of porn and child sexual abuse material (CSAM) is vital.

Thankfully, even celebrities like Billie Eilish are sharing  publicly about how porn use has harmed them. Eilish, who started watching porn at age 11 says, "I think it really destroyed my brain, and I feel incredibly devastated that I was exposed to so much porn."
How well we are faring in the fight against porn, especially involving children? What steps can each of us take to fight back? We'd like to highlight one simple, but important way we can make a difference.
The Way We Talk About Porn Matters...
Consider what is possibly the worst aspect of widespread pornography consumption. Children's involvement in porn is a growing global evil, whether it's accidental viewing of porn or the intentional production of child sexual abuse material.
But here's a critical question that should hit the public debate forums. Should child pornography even be allowed to be called by this name? To explain the question, first let's define our terms clearly.
When a minor is being filmed in sexually explicit material, what is actually happening is child sexual abuse. Pornography is technically legal, and has been since the 1950s. Child sexual abuse material of children under 18 is illegal! In fact, it's not only illegal, it is a horrific crime against a child that should rip our hearts out, fuel a righteous inner rage, and drive us to war against this great evil.  
While we might use the term "child pornography" on occasion so that others understand what we are talking about, we don't want to ever legitimize this as a genre of porn. Legitimizing the filming of children in any sort of sexual way is base and vile. 
The underlying reason we cannot fail to speak about this topic is this: the ongoing problem of how children are affected by the porn industry in different ways. 
Because What Porn Does To Children Matters
If you're tuned in to your Twitter feed recently, you may have noticed that discussions about the Josh Duggar case were blowing up. Folks are rightly upset for multiple reasons. Religious hypocrisy about child sexual abuse in porn or elsewhere is one reason for the anger.
Predatory behaviors and child sexual abuse material should never be considered acceptable by any religion. Churches and religious organizations must be aware and proactively accountable. Any coverup is worthy of public scrutiny and outrage. Even the Duggar siblings are speaking out about this in favor of the jury's verdict.
If you're fighting porn use because of your faith, you understand that porn goes against your core belief system. All people are special, and porn mistreats people. Children, our littlest people, are precious and highly valued in our faith communities as a whole.
Jesus was outspoken on the treatment of children. He clearly called out His own inner circle of friends — His disciples — for even implying that He would ever be too busy to have time to bless little children.
And what about those who dare harm children?
In Jesus Christ's own words, "It would be better for him if a millstone were hung around his neck, and he were thrown into the sea, than that he should offend one of these little ones."
The harms of porn on children are undeniable. We must address these in the public arena and in our faith communities.
There's one small step we can take right away. Change the way we label "child pornography" in our public court system and news media.
For those who dare harm children:"It would be better for him if a millstone were hung around his neck, and he were thrown into the sea, than that he should offend one of these little ones."
A Step Toward Change: How We Publicly Report "Child Pornography" Cases
There's a growing undercurrent of public ire that is legitimate. What is disturbing to many of us is the way major news sources such as CNN and ABC news reported the recent conviction of Josh Duggar as a child pornography possession case. 
Some people feel the public news media is guilty of partially legitimizing child sexual abuse material. How? Simply calling it child pornography — because pornography is legal and rampant.
Next, it's also important to note that a child cannot give consent legally. To be filmed in pornography legally, consent is required. So what should we call explicit sexual material that involves a child?
There IS a solution.
What is CSAM — The Alternative Answer 
Some of you may be unfamiliar with this acronym, like I was before the Josh Duggar case broke. But the label CSAM is actually the legitimate way child pornographic-type materials should be categorized: Child Sexual Abuse Material. 
Some news sources are already on board. Buzzfeed and Christianity Today did a great job by calling a dangerous and vicious, child-devouring wolf by its real title — child sexual abuse material. 
Let's be blatantly honest. We are discussing the horrors of child sexual abuse. And the chief criminal child sex abusers are those who are those filming and selling the physical, emotional, and spiritual rape of these poor little people who have no voice. It is sexual slavery at its very worst. 
Anyone who hosts, downloads, watches, or distributes this material also fuels and participates in a heinous dark underworld of crime. 
Thankfully, guilty sleeping giants like Twitter and Google are starting to wake up, with sharp nudges from grassroots organizations.
Every single social media platform needs to wake up and enforce stringent safeguards and penalties against child sexual abuse materials
For the childrens' sake — hold the news media accountable 
If we pay for and listen to the public voices of the news media, they should listen to our feedback.
Let's ask our news reporters for this change. Please stop labeling child sexual abuse material as child pornography. 
The news media in the name of well-defined reporting should be held accountable for how they use words. Even if they're simply reporting the news, including how the federal charges are actually recorded, that does not excuse them. 
It's simple enough to also include the correct terms "child sexual abuse material" somewhere in their reporting script. This way you underline and define the dark nature of this societal ill. 
Pornography enjoys being legal in the name of "freedom of speech." 
However, child sexual abuse material — again — is highly illegal. Calling it child porn is implicitly influencing our culture that this evil is somehow okay.
What about the wording of federal charges? 
We'd even go so far as stating that the US federal government and the courts should re-frame their words. Let's go back to our roots for clarity. Do we still believe what is written in the founding documents of our country — the Preamble to the Declaration of Independence? 
"We hold these truths to be self-evident, that all men are created equal, that they are endowed by their Creator with certain unalienable Rights, that among these are Life, Liberty and the pursuit of Happiness."
Our words matter as we seek the protection of the law. We want justice for our most priceless asset on planet earth — our children.
We should call pornographic materials that involve children for what it is in our courts: child sexual abuse material. As we seek justice, we understand that the problem is growing so rapidly. Those fighting child sexual abuse material cannot keep up with the onslaught.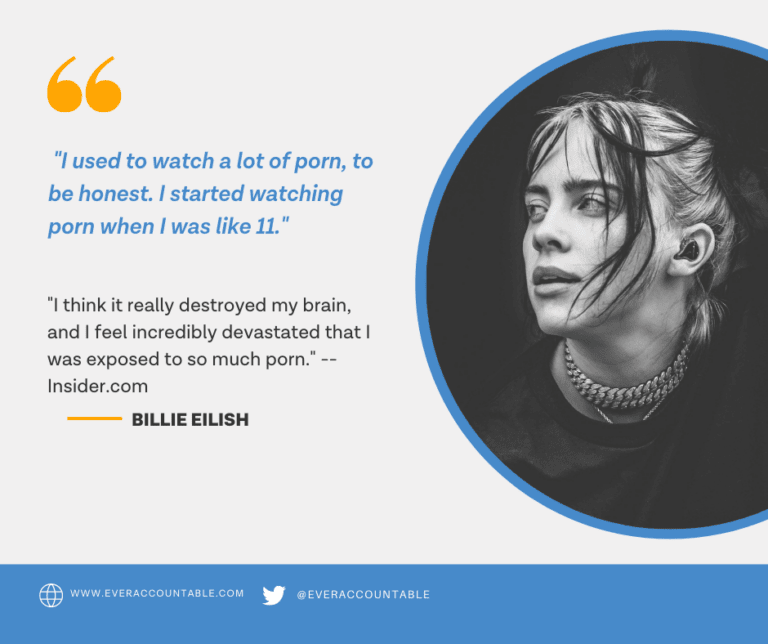 Worse Than You Might Think: A Growing Epidemic of Child Sexual Abuse Material
The Internet Watch Foundation (IWF), a charitable organization dedicated to eliminating child sexual abuse from the internet, was quoted in a recent news article about child sexual abuse materials: 
The IWF "said its analysts were facing a "tidal wave" of abuse material. It called on the government to ensure the online safety bill, intended to improve internet safety, was used to protect children.
IWF figures show that this year it has acted against a record amount of more than 200,000 websites containing child sexual abuse material. That is 15 times more than in 2011, when there were just over 13,000 reports of abusive content."
Backing up this almost unbelievable data, The National Center For Missing and Exploited Children recently released this horrific number: 100 million reports of suspected child sexual exploitation.  
"Our CyberTipline at the National Center for Missing & Exploited Children has surpassed a daunting new milestone: 100 million reports of suspected child sexual exploitation, nearly all related to images and videos of children being sexually abused that are circulating on the internet, some even live streamed." 
Even the National Institutes of Health (NIH) has noted the sharp uptick in internet chat rooms around child sexual abuse material and is taking action. NIH has started an initiative called "Prevent It" to help people who want to stop consuming child sexual abuse material. 
Long-term effects of child sexual abuse material
The long-term effects of child sexual abuse material on society has yet to be fully researched or documented, but we can see many harms unfolding before our very eyes. 
The fact is, even teenage porn is a highly searched term for those consuming porn, sadly. Our teens are still children whose brains have not yet fully developed. Any porn containing teens under 18 would still fit the definition of CSAM.
Going back to Billie Eilish's story, she says that "early interest in pornography had damaged her sex life and mental health…she believed her struggles with sleep paralysis and night terrors were rooted in her exposure to "abusive" BDSM."
Another way porn and CSAM harms children is the sharp increase in child on child sexual abuse. Even Sexual Assault Nurse Examiners (S.A.N.E nurses) are beginning to speak out. Many perpetrators of child sexual abuse are themselves still children. 
Children are accessing and acting out dangerous ideas from porn or creating their own child sexual abuse material and streaming it online. We have to speak out. Even more importantly, we have to set a better personal example.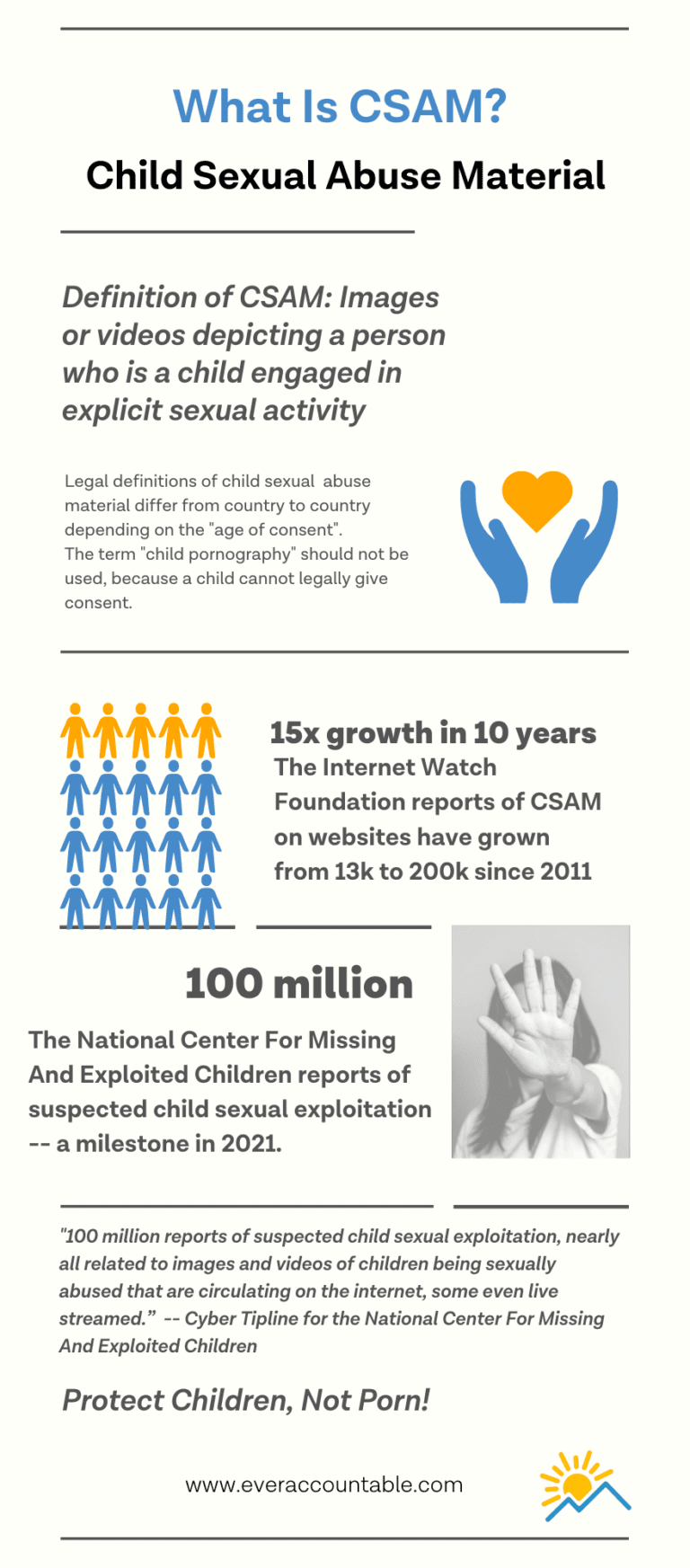 Quitting Porn Matters For Our Children
Teenage porn use is a growing issue, so mentors, therapists, and influencers who speak out are telling their personal stories of struggles against porn. You can find true stories on Fight The New Drug. 
Stories like that of Josh Duggar, caught and charged with child sexually abusive material possession, also serve as a reminder and warning that pornography use can take you to places you really don't want to be. 
If you're caught in the web of pornography use, and you're concerned about it spiraling downwards to more dark secrets in your life, you CAN get help. Now is the time to act.
Why you should consider quitting porn today
Starting the journey to quitting porn today matters both to you and to our future generation in so many ways. It matters to children and women who are being secretly trafficked and abused by the porn industry. 
The first step to quit consuming porn is to hold yourself accountable by being accountable to others. This brings you out of isolation and shame into connection and strength in community with others who will help and support you.
Here's why becoming accountable is a necessary step according to Dr. Brian Willoughby, Professor of the School of Family Life at Brigham Young University: 
"Accountability is a necessary part of recovery. We won't change without motivation and a belief that there are consequences to our actions. You have to believe that there are consequences to your actions, that is what makes you accountable.

We can be accountable in different ways: It could be to another person, to ourselves, or to God. Social accountability, or accountability to another person, is a better motivator than internal or religious accountability. 

It is easy for us to talk ourselves out of consequences.  For example, we might say to ourselves that what we are doing is not a big deal. 

But we don't control other people's reactions. This makes accountability to another person stronger because we are less likely to rationalize away the consequences."
What could be holding you back from becoming accountable
We find what holds people back from quitting porn is not the price tag. More often than not, it's failing to recognize the dire need and potential consequences of ongoing porn consumption. The price of accountability seems too great, because the consequences may seem too small or irrelevant to you. 
We think the very existence of child sexual abuse material shows how much porn is capable of affecting all of us IF we fail to make good choices over time. 
You have a choice to make that affects you, those you love, and our children. Our unborn children deserve to be the first generation in recent years that is unable to access or be harmed by child sexual abuse material. 
How your victory over porn helps defeat
Opting out of porn consumption helps put all forms of child abuse sexual material out of business. This decision also eliminates the risk of spiraling out of control with your pornography use. 
The rewards for you and for others when you eliminate porn from your life cannot be underestimated, either. Your personal victory is one more step towards also defeating child sexual abuse material.
We're here to support and help you on this important journey. Accountability can help you eliminate porn from your life. What's holding you back from getting started today?
"Something I have discovered that my heart is the real issue in this battle against pornography, but I know that Ever Accountable has kept me from failing many times within the past few weeks. It's a relief to know that I don't have a loophole to fall towards in a moment of weakness. Thank you from the bottom of my heart!" — Kenneth, one of many Ever Accountable customers on this courageous journey