Reading Time:
7
minutes
Welcome! We're grateful and excited that you're here. You've chosen to protect yourself and those you love from pornography in a time-tested way – accountability to another person. 
Even if you're not struggling with porn, you can model accountability for others, especially your family.
You can also provide "preventative" online protection for yourself. We want to make accountability on Android as painless and easy-to-use as possible for you.
How to Install Ever Accountable On Your Android Devices
Getting started is easy! Please follow the simple steps below.
Open Google Play app store. Search for Ever Accountable.
Click "Install" Ever Accountable on the app information page.

Click the "Open" button once the app has been installed.

Begin registration by entering an email address and creating a password or signing in with Google. 

Don't forget to agree to the terms of service.
Name the devices you wish to add to your account.
Enjoy a short message from Ever Accountable's Founder and President - and reach out to someone you trust to be your accountability partner.

4. Signup for your 14-day FREE trial and invest in YOU.
5. Activate Device Admin Permissions.
Note: These steps vary by device, so please follow the on screen instructions.
Accessibility:

Click "Enable" to grant Ever Accountable permission to use the Accessibility services on the device. 

Device Administrator:

Click "Enable" to allow Ever Accountable. This option allows us to share uninstall activity with your accountability partners. 

Usage Stats:

Click "Enable" to grant Ever Accountable permission to record time spent in apps. This information is shared on your weekly accountability report. 
How To Maximize Accountability on Android
Enable Screenshots for added protection from porn
This is an optional feature. Enabling Screenshots will allow Ever Accountable to take periodic screenshots of your activity on the screen. These screenshots are included in your weekly accountability report.

How to enable screenshots:
Open the Ever Accountable app and click the "Settings" icon.

Click "Turn Screenshots On" under the "Device Settings" section.

Click the blue "Activate Screenshots" button.

To adjust the Screenshot Resolution Quality.

Click the Screenshots feature one more time and pick between Blurred and No Blur.

Blurred:

This is the default setting. When selected, we will give the screenshots a blur effect.

No Blur:

This is a higher resolution screenshot.
How to disable screenshots for privacy purposes
Open the Ever Accountable app and click the "Settings" icon. 

Click "Turn Screenshots Off" under the "Device Settings" section.

Toggle the Screenshots setting to the "off" position.

Se

lect how long you want the Screenshots feature to be disabled, and then enter the reason why you are disabling Screenshots. 
*Note*: The reason you enter will be shared with your accountability partners on your weekly accountability report.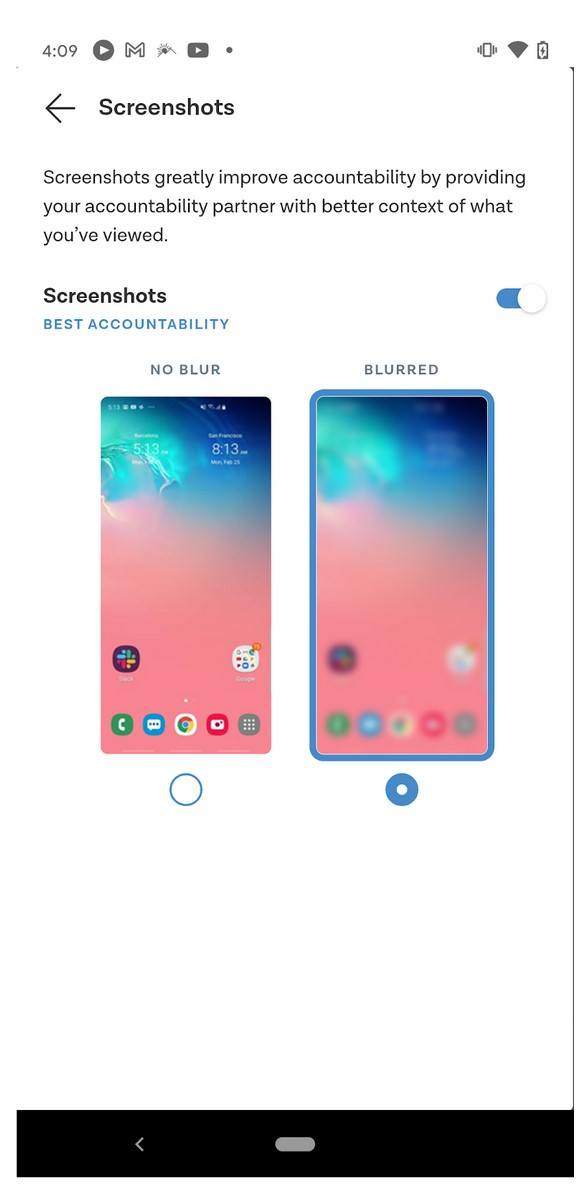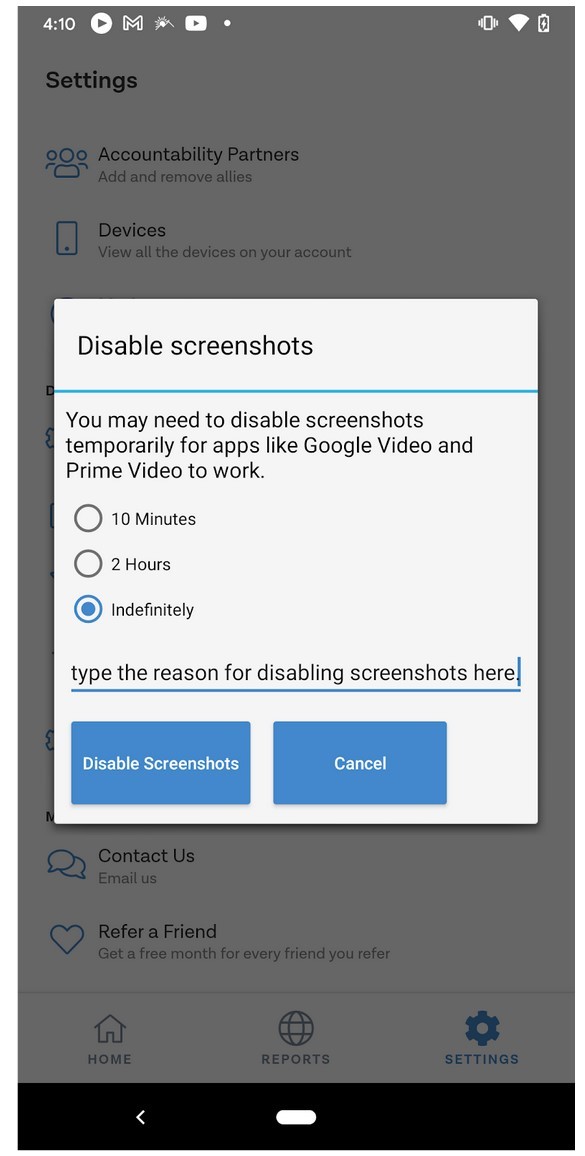 Add an accountability partner(s)
Accountability simply does NOT work without a partner. So, let's get off to a great start by choosing at least one partner. (Multiple accountability partners – friends supporting friends – is even better.)
When you reach out to someone, let them know they will get an email or a text. Inside that email or text is a SPECIAL partner link that allows them to sign up for free.
That link is time-sensitive, however, so if they miss the time window, you may need to delete them as a partner, and add them back. Be sure to tell them you are sending them a new invitation.  Here's the link with the steps: 
How to add Accountability Partner?
NEXT, you may wonder what your accountability partner sees. Here's a link explaining basic alerts they receive:
Does Ever Accountable send instant alerts to accountability partners?
Use our custom keywords feature for added protection from porn 
Set a time with your accountability partner when you strategize a success plan and create a list of keywords you would be tempted to search. Then your accountability partner can use our custom keywords feature to upload these in order to give them an extra heads up. 
if you view items flagged inside "Custom Keyword" settings, your partner will get a "blacklisted alert" on your weekly report.
The custom keyword list can only be modified by your accountability partner for your safety. 
This prompts open, honest conversations. If you create this list together, it diminishes the power of porn. It's also another way to keep yourself honest, as we all struggle with varied temptations.
Sometimes you benefit from having more than one accountability partner. Other times, you may need to change accountability partners. Here's a simple explainer video.
How to add or remove an existing accountability partner (AP)

Tips For Accountability Partners (we think you're AMAZING)
If you're an accountability partner, your special, time-sensitive link to sign up is included in the invitation you received to be an Accountability Partner. You would have received this via email or text message.
If you have yet to receive it, reach out to your friend and they can resend the invite. Your role is critical to their success.

If you're a parent, tap into your teen's tech-savvy, and enlist them in the set-up process.

Note: There is never a charge to be an accountability partner! The link is your free access.
You are AMAZING, and we appreciate you deeply.
Here's a link to a blog post to encourage you and give you helpful tips. We're also here to help you if you have any questions or need tech help. Please reach out! support@everaccountable.com.
How To Add A New Device To Your Account
Open this link on any new device you want to register.

Scroll down, find the platform appropriate for your Android device, and CLICK on that icon

Download the app on your device and follow the log-in instructions. Please use your current log-in information.

If you need help, please contact us: support@everaccountable.com

Tip: If you need detailed installation steps, click on the "Installation FAQ" link alongside each download option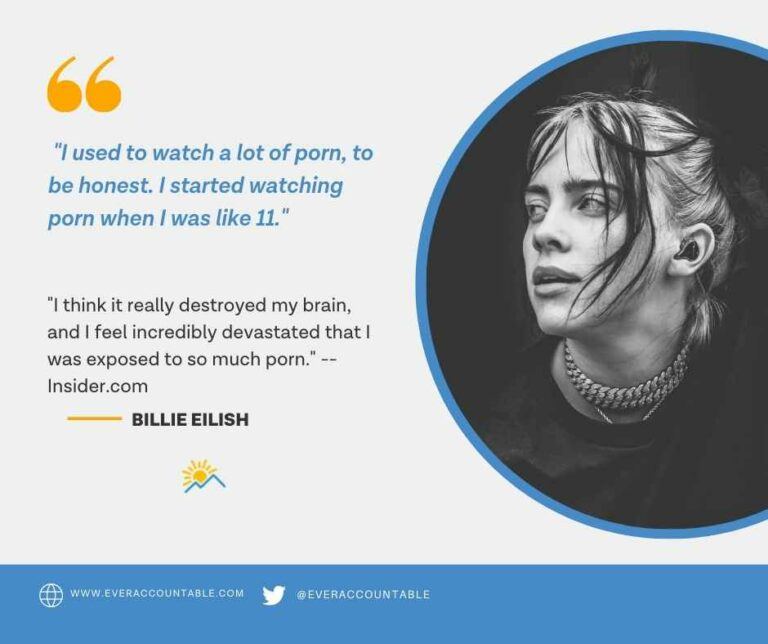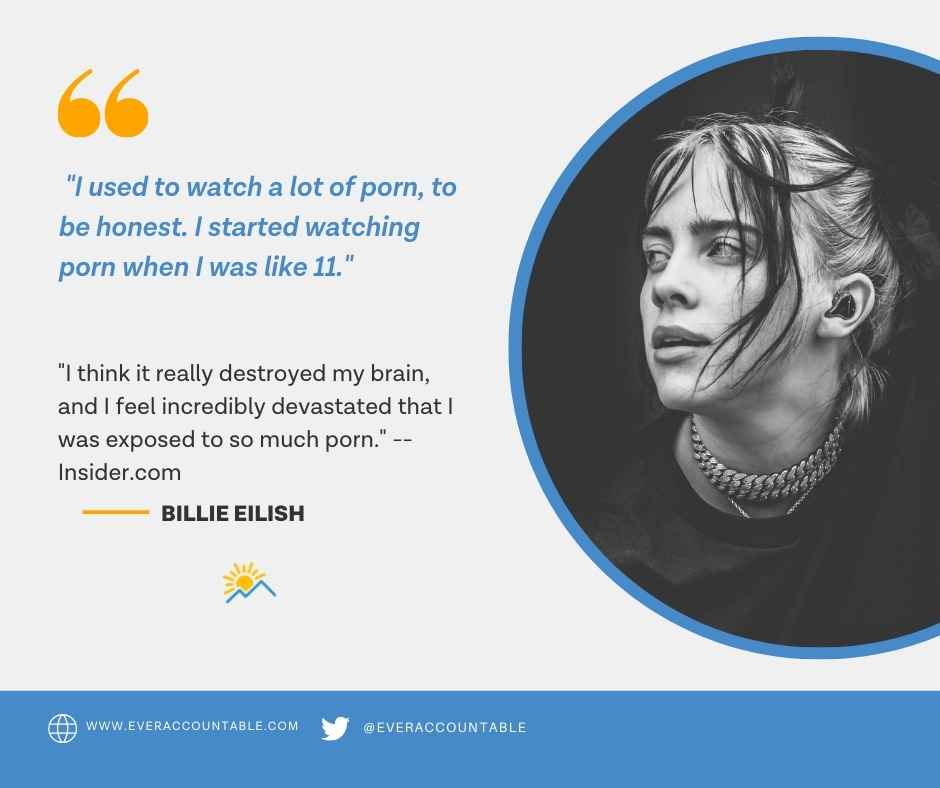 Social Media: Help to Stay Accountable
We can help you with social media accountability inside of many popular social media apps. 
NOTE: The YouTube app and a few others are automatically checked for sharing in App Configuration in our latest updates. If you've been a customer for a while, you may need to delete the app and re-install to get the updated version.
App Configuration Steps:
Open the app and go to the Settings tab

Select App Configuration

Check to see what apps are on the list. 

Make sure the *Shared* box is checked beside each app that you wish to have activity reported.


Click *Confirm* at the bottom when enabling sharing on a new app
Please reach out to us at support@everaccountable.com with any questions.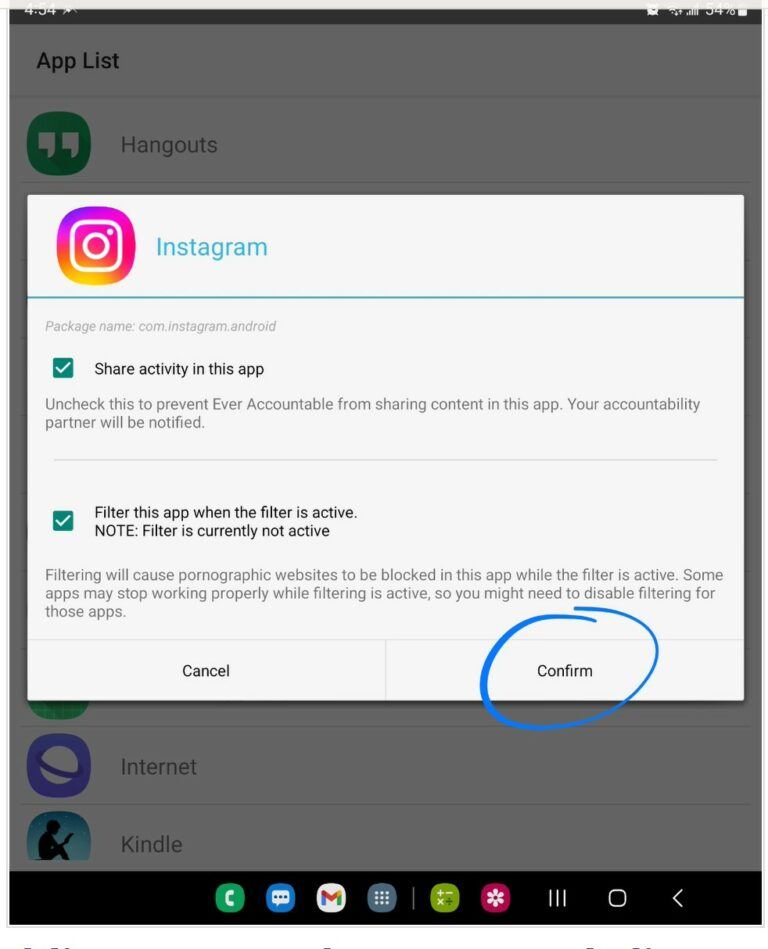 What happens if app sharing is disabled?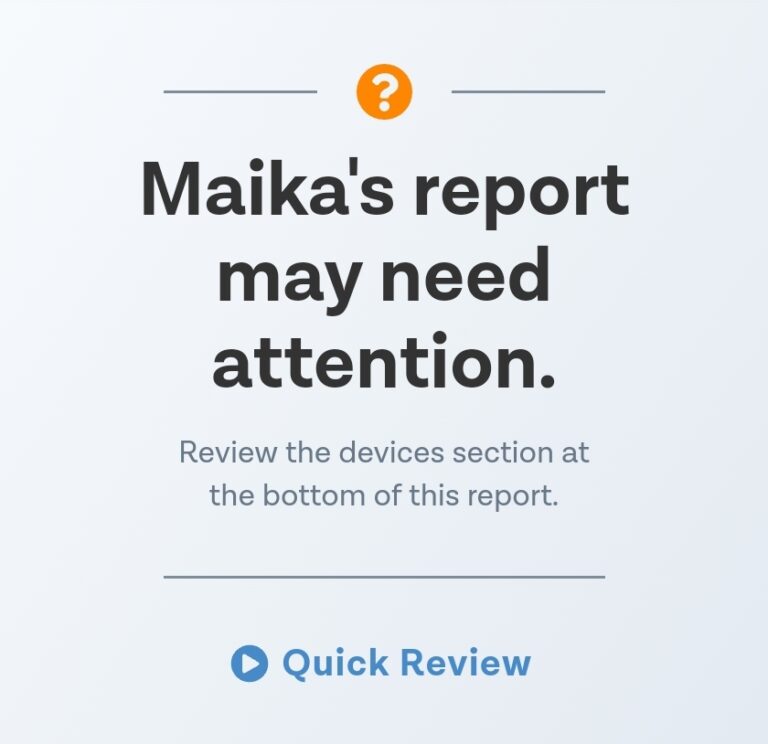 The accountability partner will receive notification in the reports saying something like "John's report needs attention". It's important to click through to the notifications to see what changes may have been made in the settings.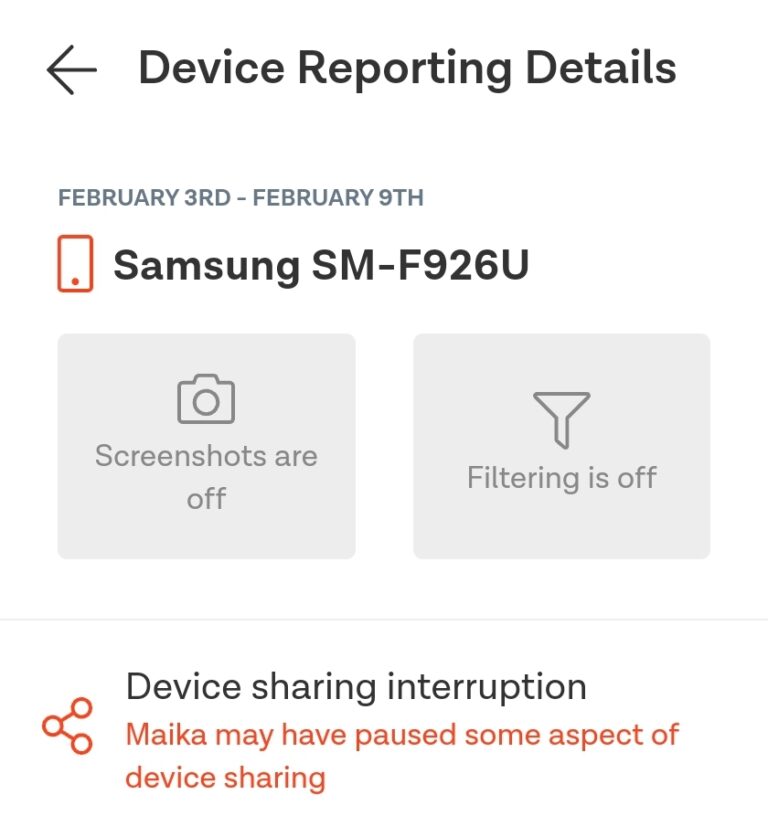 Click on the notification for the specific details. You will see which app needs to be enabled in the App configuration settings again.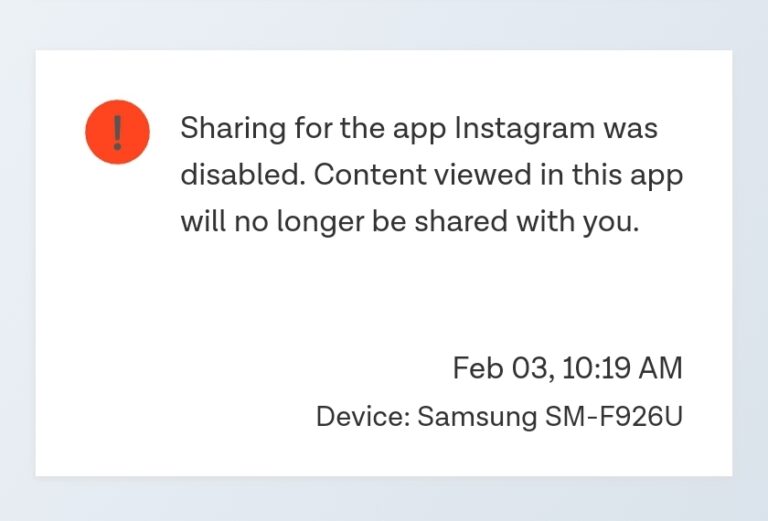 Troubleshooting in Android
Over the long haul there is chronic *bug* inside of Google (not Ever Accountable) that rarely *bugs* us. Sometimes it may affect certain Android devices. 
Also, Samsung KNOX and Keeper Password Manager are two apps that unfortunately do not work with Ever Accountable. If you have either of these apps, you won't be able to run them in conjunction with Ever Accountable.
We're always working on a work-around for this bug.
Please contact us at support@everaccountable.com if you encounter a problem. 
Benefits Of Using Ever Accountable For Protection From Porn On Your Android Device
Rewire your brain to reach for something better than pornography.
Any bad habit takes practice to break. By using the Ever Accountable app, you can train your brain to recover from porn. Accountability is the key. 
We help you  be honest and intentional about owning online viewing habits. Porn thrives in secrecy. You can find your own power and ultimately freedom, by breaking the silence! 
When you're able to refocus on your life goals and reach for your potential, uninhibited by the trappings of pornography, it feels amazing.

Even better, accountability helps you begin reconnecting with the people around you on your life's journey. Life is too short and precious to let it be hijacked by hours and hours on a screen. 
Rebuild trust in your relationship with your spouse.
Honesty is certainly an important part of trust. A popular therapy site, choosingtherapy.com notes 20 tips for rebuilding trust, including having a plan. This includes being vulnerable and open about your failings:

"Work together to develop a plan to prevent further breaches of trust. Be open to identifying areas that may have created mistrust…"
While it's often helpful to have an accountability partner other than your spouse, including your spouse in the accountability process demonstrates a commitment to honesty. 
A clean report from Ever Accountable is a measurable, tangible sign of progress and commitment to rebuilding trust.
Model accountability and mentor the next generation.
If you're a parent, our app will help you practice responsible digital parenting, too. Let's normalize online accountability for future generations. 
We've never had a generation of children more exposed to pornography than our current one – raised on porn! The effects of pornography on our children have yet to be measured. 
In fact, many high school students consider porn use "normal". It's time to create a new "normal" that doesn't include porn. 
When you lead by example, you're building a better tomorrow. Accountability is a timeless principle. It never goes out of style in healthy relationships. 
Ultimately that's our goal. We want to empower you and those you love to live above pornography AND reach your highest potential. Please feel free to reach out to support@everaccountable if you have questions or need help with our app.  
We're here for you!